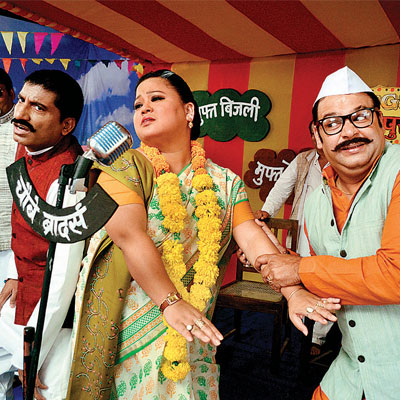 Comedy is the flavour of the season on the tube. Zee is the latest to join the bandwagon of stand-up comedy shows with Gangs of Hasseepur. No, it's got nothing to do with Anurag Kashyap's gangster film Gangs of Wasseypur, instead it's a lot to do with the current political situation in the country and the upcoming elections, albiet with a humourous take. When asked if the channel was giving in to the trend of stand-up comedy shows (Comedy Nights With Kapil, Mad In India, Comedy Circus) Namit Sharma, programming head, Zee, denied it.
"It's not because we also wanted a comedy show that we are doing this. The idea behind it is to reflect what's happening in the country and humour is the best way. The whole show is meant to have fun. The line of the show is 'Jo cheezein aapko rulati thi wohi aaj hasayegi'. Everything that is a pain point for the country is fodder for humour on the show. It's a variety show with different styles of comedy. It's election-related with issues like inflation, lack of trust in the politicians etc forming the basis of humour."
Bharti Singh, Suresh Menon and Raju Shrivastav will be toplining the show with new actors and characters being added as the show progresses. Mandira Bedi is judging the variety entertainment show even as the channel is looking at roping in another celebrity.