Actress Kangana Ranaut opens about men, money and movies!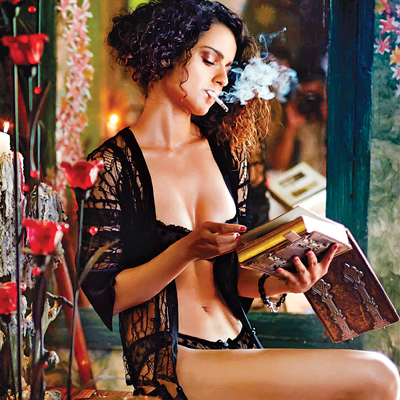 Kangana Ranaut is in a unique position today after her last few releases. She has managed to make a place for herself, that is her own. She isn't typecast. She loves experimenting. The 27-year-old plays a neurotic character, an alien or a girl from small town with as much ease, as with conviction. She is the only actress of her generation playing the 'hero'. She refuses to be in a film just to provide glamour. If she grabs your attention with her roles on-screen, she does the same off-screen with her words. Not one to sugarcoat what she thinks and believes, here is a small preview into Kangana's mind. Read in for excerpts from an interview to GQ India.
*"Right now they've been calling me for every award function there is, and I'm just not interested."
*"If I talk to someone my age who grew up in Juhu, I feel like I'm talking to a kid, like I need to take care of them, offer them a candy or something. I don't connect."
*"I want to be an actor the industry needs, not an actor who needs the industry."
*"There are some people that when they achieve stardom they start to go crazy over it. My foundation is stronger than those Juhu and Bandra kids."
*"The way that sex is perceived in our country? Who would want to be a sex symbol? It's not that I wouldn't want to look sexy, or be known as someone who's hot, but isn't it too petty a word? I'm giving the precious years of my youth to go into unconventional characters, and to do films like Revolver Rani where I take extra time and effort to look ugly."
*"I know I'm being a bitch, but my relationships with Indian men have been really really bad. It's been traumatic in every way... They don't let me get out of this actress zone."
*"I think if [acting] doesn't fulfil you, then you should admit it. Don't worry if people will think you're a bit loony. Being famous can't be your life goal. It's superficial, it's an activity. My life is a lot more important than wearing fancy dresses."
*"I still feel the way I did when I left home, that I need to find out what I like to do. Maybe I'd like to write a book, or open a little café somewhere."