Die hard Clooney fans can make a beeline for the movie, the rest can wait for it to hit HBO.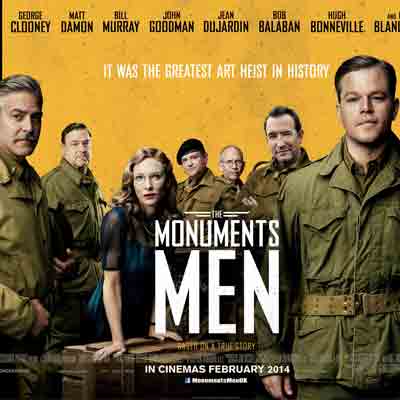 Cast: Bill Murray, Bob Balaban, Cate Blanchett, Dimitri Leonidas, George Clooney, Hugh Bonneville, Jean Dujardin,John Goodman, Matt Damon
Director:George Clooney
Rating: **1/2
What's it about:
Every war movie has a certain moment in history that it digs deep into. The Second World War focused on the Allied troops and their fight against the Nazi Germany. But apart from this battle there was another secret undercover rescue operation happening that was buried into the archives. George Clooney brings this untold story alive with an odd ensemble of the least likely to be cast together bunch of actors. Apart from his buddy Matt Damon, the rest - Jean Dujardin, Bill Murray and John Goodman stick out like sore thumbs in this ho-hum attempting to be comic drama about a bunch of people wanting to rescue Michelangelo and Rembrandt's work from falling into the wrong hands.
What's hot:
The premise is actually interesting. When the film starts and we are introduced to what these guys are set out to do, there's this rush of actually learning a lot about what happened behind closed doors, the covert operations, unsung heroes and their tales. A lot of attention has been paid to detail in creating that era with set decoration and costumes. Among the cast Murray and Goodman have better written roles than the rest and they make gold of whatever is given to them.
What's not:
Clooney seems unsure about the route he wants to take with this film. Somewhere in between attempting a comedy to addressing a serious topic like reserving cultural heritage and art, he fails to navigate his work in a steady direction. The jokes also seem sudden and stapled in to fill up the gaps. The cast has very little chemistry and even as a collective team look like misfits. Told from the American perspective there is a lot of jingoism and chest thumping through Clooney's monologues that get a bit tiring. Blanchett has very little to do than speak in an accent and be a bystander. Second half loses steam early on and you can't help but keep checking the dials of your watch.
What to do:
Die hard Clooney fans can make a beeline, the rest can wait for it to hit HBO.