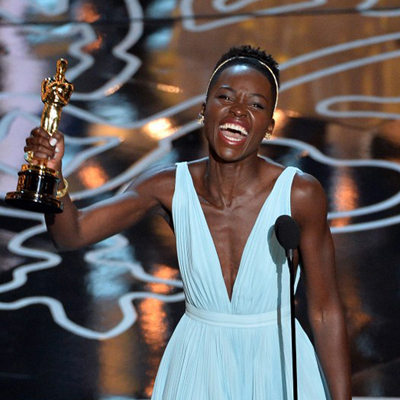 Lupita Nyong'o won the best supporting actress Oscar for haunting portrayal of Patsey, a slave who is abused by her owner, in an impressive debut in Steve McQueen's slavery drama "12 Years A Slave".
The 31-year-old Kenyan actress, who has been the red carpet darling this award season, was a favourite to win the trophy for the tortured yet miraculously whimsical role in the movie.
This is Lupita's first Academy Award. Her award was announced by last year's best supporting Oscar winner Christoph Waltz.
Looking stunning in a ice blue gown, Lupita thanked her director McQueen, fellow nominees, her co-stars and the spirti of her character in her emotionally charged speech "It does not escape me for one moment that so much joy in my life is thanks to so much pain in someone else's. I want to salute the spirit of Patsey, for her guidance and for Solomon... Thank you for telling her story and your own," Lupita said in her acceptance speech.
She also thanked film's director McQueen for putting her in the position, "It's been the joy of my life," she added.
Lupita beat actresses Jennifer Lawrence (American Hustle), Julia Roberts (August Osage County), Sally Hawkins (Blue jasmine) and June Squibb (Nebraska) to take home the trophy.
The acclaimed drama, based on the memoirs of Solomon Northup, saw Lupita portraying Patsey, the most favored and yet most brutalized slave on a plantation ruled by a sadistic master (Michael Fassbender).
Apart from her brilliant acting prowess, the beauty has very quickly established herself as a fashion icon in the industry with vibrant outfits and a penchant for bold designs.
The actress previously won Screen Actors Guild and Critics' Choice Award for her performance before taking home the coveted golden statuette.
Lupita became the fifth black woman to win the supporting actress Oscar and only sixth woman to win an Oscar.