The actress has been invited to walk the red carpet at Cannes for an acclaimed fashion designer.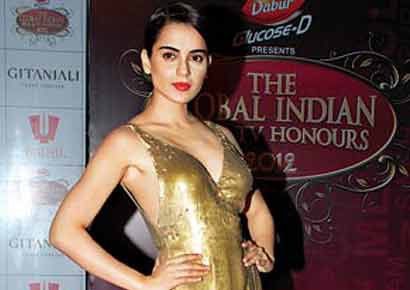 Actress Kangana Ranaut has been invited by Roberto Cavalli to walk the red carpet at Cannes. Kangana spills the beans saying, "I will be going to Milan at Cavalli's personal invitation next February and he's asked me to walk the red carpet. It is a great honour," she says, adding that this was confirmed at the launch of the designer's label in Delhi.
Being one of the most stylish people in Bollywood, Kangana shares her style mantra, "For me, looking good is all about knowing what looks best on you. I am not too rigid about labels. During my travels, I keep an eye out for the unusual and mix and match it with what I wear. Experimenting is what really matters."
Talking about how she has been able to break out of the roles she did at the start, she says, "I was only 17 and I was cast in a mature role that I could hardly relate to. But as a struggler, you can't afford to say no. As I got similar roles later, I realised that I was not doing justice to my own caliber," she says.
"Tanu Weds Manu was a risk that I was willing to take as the production unit was new but I loved the script. And it worked wonders and I have been flooded with film offers since." Shedding light on what's next, Kangana gushes, "In Krrish 3 I play a superwoman and Revolver Rani will be a desi version of Kill Bill. In Queen I play a girl with no confidence. I have a host of challenging roles to explore a new facet to me."