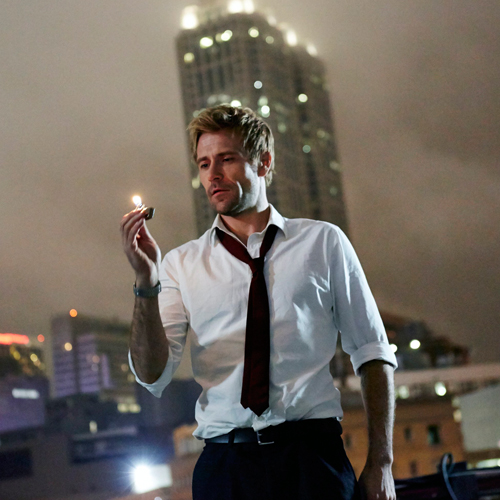 DC Comics' British occult expert John Constantine finally comes to the small screen. Matt Ryan plays the supernatural detective who fights off the evil of the world and protects it against the ever looming dark forces.
On Sunday, NBC released the first look at the new series. The trailer shows Constantine turning more to a life of no limits or morals; however when the daughter (Lucy Griffiths) of one an old friends is targeted by demons, he reluctantly decides to help her out. We also get a look at 'Manny', the angel, played by Harold Perrineau as well as some of the effects they're going to use in the show. The trailer looks like a good mix of supernatural elements, dark humour and will be a good companion to Grimm which also airs on Friday nights. The show is highly anticipated by comic book fans and non fans alike, amassing over one and a half million hits on YouTube in just one day.
For those not familiar with the character, here's a little bit more on Constantine
John Constantine was created by Alan Moore and Steve Bissette in the middle of their critically acclaimed run on Swamp Thing. Initially just a supporting character, Constantine's popularity began to grow rapidly, leading to his own series, Hellblazer. It received positive praise during its run and today is the longest running series from Vertigo Comics till date. Hellblazer, along with Swamp Thing was published by Vertigo Comics, an imprint of DC Comics. Hellblazer published its 300th issue, which was its last one earlier this year.
Since then, Constantine has been incorporated into the main DC Universe and is a staring member of Justice League Dark and his own eponymous title. Read More
Here's the official synopsis by NBC
Based on the wildly popular comic book series "Hellblazer" from DC Comics, seasoned demon hunter and master of the occult John Constantine specialises in giving hell... hell. Armed with a ferocious knowledge of the dark arts and his wickedly naughty wit, he fights the good fight - or at least he did. With his soul already damned to hell, he's decided to leave his do-gooder life behind. But when demons target Liv, the daughter of one of Constantine's oldest friends, he's reluctantly thrust back into the fray - and he'll do whatever it takes to save her. Before long, it's revealed that Liv's "second sight," an ability to see the worlds behind our world and predict supernatural occurrences, is a threat to a mysterious new evil that's rising in the shadows. And now it's not just Liv who needs protection; the angels are starting to get worried too. So, together, Constantine and Liv must use her power and his skills to travel the country, find the demons that threaten our world - and send them back where they belong. After that, who knows... maybe there's hope for him and his soul after all.

Read Also: First look at Batman prequel 'Gotham' starring Ben McKenzie and Donal Logue