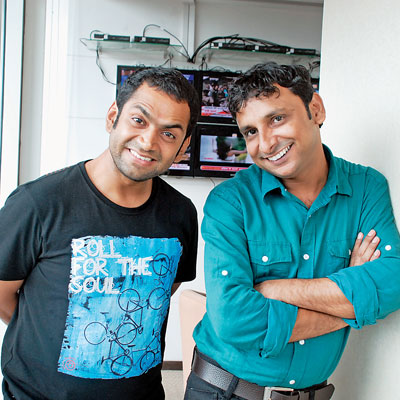 Debutant director Nitin Kakkar's Filmistaan has made impressive profits. With the Maharashtra government granting the film an entertainment-tax exemption the ticket sales are expected to show an upward climb in the third week.
The pressure on the Filmistaan team to do a sequel has increased. Says the film's leading man and the dialogue and screenplay writer Sharib Hashmi, "We're being persuaded to do a sequel.The film had an open ending where we don't know what happened to the Indian and Pakistanni protagonist. But both the director Nitin Kakkar and I are very clear that unless we get a storyline that takes forward the two characters played by me and Inaamulhaq we aren't doing a sequel. There is no point doing a sequel just because the first film has succeeded."
Says Sharib, "The Indo-Pak border issue is a serious matter. We can't treat it as a formula and drag it forward just to cash in on the success."
While Sharib and Nitin Kakkar insist that the sequel will happen after the plotline is figured out, sources say the two characters of the Indian and Pakistani friends are now being developed into ongoing characters for a television serial.
Sharib says he is overjoyed by the film's reach. "We hoped and prayed Filmistaan would get an audience. It did. Now there's the entertainment-tax exemption in Maharashtra...We are hoping that the other states would also grant an entertainment-tax exemption. We are also hoping that the film is received with as much warmth in Pakistan when it opens this Friday."