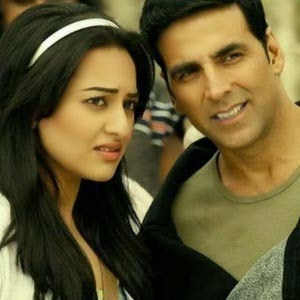 Holiday ***
Directed by: A R Murugadoss
Starring: Akshay Kumar, Sonakshi Sinha, Govinda, Sumeet Raghavan, Zakir Hussain and Farhad
What it's about:
In recent years, there have been very no Hindi films about the army/war. Four decades ago films we had Haqeeqat, and Saat Hindustani. We have J P Dutta to thank for Border, LOC Kargil, These films have army and some war as the back drop And now comes Holiday -- A soilder is never off duty.
It is about an army guy but don't go expecting a war film. It is about a soldier who while, he is on leave, witnesses a terrorist attack and with the help of his army buddies sets out on a task to find and kill the head of all the sleeper cells in the country and is willing to sacrifice everything from his life to that of his family on his mission
What's good: Holiday is a blend of realism and Bollywood drama. It's a peep into the life of the unsung heroes. If only the script was as sincere as the lead actor, who whether he is wooing the girl he loves, cowering in front of his boss (Govinda) or getting thrashed by the baddie is competent and confident. While Holiday has tension, emotion, drama and entertainment value, it doesn't prepare you for the character of special agent Virat (Akshay Kumar).
He plays a cold-blooded killer in the line of duty. From taking out top cops and politicians without hesitating to snipping off fingers of terrorists, he does what he has to. The love angle in the film disrupts the narrative but hen who is to say that the solders don't have a family/love life?
The songs are hummable but act like road bumps. Refreshing to see Govinda back on the screen. Sumeet Raghavan as a cop and Virat's friends delivers what is expected of him but needed a role with better definition. Farhad aka Freddy makes an impressive screen presence.
What's not: There's two ways to do an 'army' film. one is about war, tragedy and human loss. Another one is to make it like a secret agent/spy thriller. This one goes the other way but lacks the pace that is needed to keep the viewer interested.
Yes, it is a remake of a hit Tamil film, but there was a lot of room for improvement. The songs are catchy but you wish the director had considered if it was really needed in a film like this. You keep wishing it was more real. It's the frills that dilute the film.
The director could easily has taken it's high-class Bollywood film like A Wednesday and not the low-rent and exploitative route. there are many problems with the script. There are scenes where Virat tortures victims at his home where he lives with his family, and they are clueless. He carries home a cellphone that belongs to a terrorist. They are armed with latest technology. Can't they trace it back to him?
What to do: Watch this as a thank you to the army fellas.