The actress was to sing a song for Krissh but as her international contract forbids her from singing elsewhere, Alisha Chinoy was roped in.
When Alisha Chinoy sang Tinka Tinka for Priyanka Chopra in Karam (2005) the voice become synonymous with the actress' smouldering sizzling femme fatale image.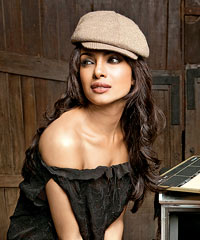 At that time PC said, "She sounds the way I would if I sang the song."
Now the actress has cut her own album and Alisha has come out of her self-imposed exile to sing for her in Krissh 3. The song has been composed by Rajesh Roshan and the actress was to record the song herself. However, the music deal for her international album prevents her from singing in any other form medium or capacity.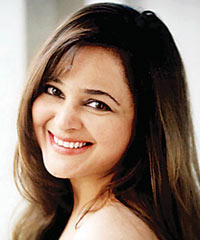 Alisha, according to sources, was roped in on Priyanka's recommendation. "I've been keeping away from playback singing. There is nothing that enthuses me at the moment. I am happy to be away from playback singing in my little paradise," says Alisha who has been occupied with looking after her ailing father in Alibaug. Roshan made the trip out of Mumbai and offered her the number.
Adds Alisha, "I couldn't say no to Rajesh. I have a very high regard for his melodies. And the song was for Priyanka. I enjoy singing for her. I remember her telling me after I sang Tinka Tinka that she once came backstage with her father to meet me in her home-town Rae Bareilly where I had gone to perform. She told me she had to wait for hours to meet me. That was sweet of her. And I loved the way she put forward the Tinka Tinka song onscreen."
About PC's own singing career that took off recently Alisha says, "I really like her music video. But I wish she would choose her songs a little better." Alisha feels the future of the music industry lies in the revival of non-film albums. "Even today I am recognised for the Made In India album. I'm looking at doing an album of my own."