Challenges state BJP leaders to strengthen the party without him.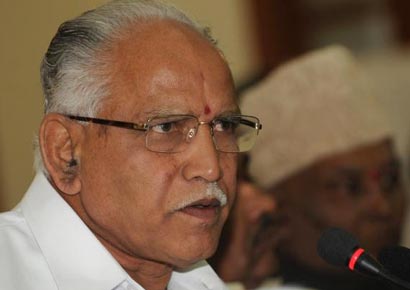 Former chief minister BS Yeddyurappa on Tuesday said he regretted giving up the chief minister's post, saying that it was a big blunder in his political career.
Speaking to reporters after performing pooja on the occasion of Diwali at his office in Malleswaram, Yeddyurappa said, "I have committed two mistakes in my life. I should not have resigned from the chief minister's post after the Lokayukta submitted the report on illegal mining.
And, I should have announced the formation of my new regional party much earlier, when a huge rally was organised in Hubli. I repent for making those two mistakes. I have decided not to repeat such mistakes. The BJP leaders misled and ruined me. I should not have trusted them."
"While submitting the report to the state government, the Lokayukta did not make any mention about my resignation. Despite having the support of 70 MLAs, I had resigned from the post of chief minister. As per the advice of BJP leaders, I tendered resignation from the post, but they never delivered what they had promised me," said Yeddyurappa.
Targeting BJP national general secretary Ananth Kumar, state BJP president KS Eshwarappa and former chief minister DV Sadananda Gowda, Yeddyurappa challenged them to strengthen the BJP without him.
"In my absence, they have got a chance to further strengthen the party and should utilise the opportunity to the bring the party back to power. Let them take a challenge and build the party in my absence," he declared.
Commenting on his meeting with BJP national leader Arun Jaitley, the former chief minister said, "Rumours have been spread that after Arun Jaitley met me, I decided to stay back in the BJP. Those are baseless reports. I have no link with the BJP, and have moved away. My association with the BJP is a closed chapter. Leaders of the BJP should not cause any confusion among the people supporting me."
Replying to a question on if he would seek separate seating arrangements for his followers in the forthcoming legislature session in Belgaum, Yeddyurappa said he would not do that. He reiterated that he would not bring down the Jagadish Shettar government either. He said that even if Congress decided to move a no-confidence motion on the floor of the assembly, his followers would support the government.
Yeddyurappa announced that on December 9, he would launch the KJP at a mega rally in Haveri and assume charge as the party's president. In a general meeting of the party recently, it was decided to elect one of his associates, V Dhananjay Kumar, as the interim president of the party, besides electing other officialbearers.