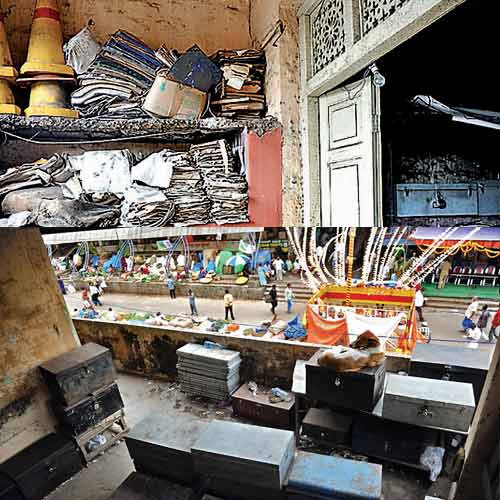 Generally, the Bruhat Bengaluru Mahanagara Palike (BBMP) authorities either arrange a drum beating or take police protection while going to recover dues from property owners. What will the BBMP authorities do if police station itself becomes a defaulter?
The City Market Police Station, situated on the first floor of the KR Market has not paid its rent to the BBMP for the last 13 years, according to the revenue officers of the BBMP. They have been sending notices to the police station since 2001, but in vain.
"I have been approaching the police inspector, but he told me that he was not concerned with the arrears of rent,'' said Sundar, a revenue inspector of BBMP.
"The BBMP has to receive Rs2.65 lakh from the police station as rent till now,'' said Sundar.
When contacted, Narayanaswamy V, police inspector, City Market Police Station, said he was transferred to the station only two months ago and was not aware of the dues to be paid to the BBMP.
"I will contact the authorities concerned in the Bangalore West Division and take measures to clear the dues as early as possible,'' said Narayanaswamy.
Insisting that revenue inspector of the BBMP must collect the rent, MS Sivaprasad, chairman, standing committee on taxation and finance, said: "We will take measures to collect the rent from the police station. I think it is the responsibility of the police officials concerned to pay the rent. It is wrong on their part not to pay the rent even after receiving the notice from the BBMP revenue department,'' said Sivaprasad.
No facilities
According to police officials at the City Market Police Station, there are no basic amenities at the station, causing inconvenience for around 70 policemen. Its surroundings are dirty and there are no seating facility for the visitors. Also, it has only one toilet to cater to the needs of 70 policemen. There is no place even to keep the trunk boxes used by the policemen to keep their belongings.

Leaky roof
Police have to take extra care to protect the records and furniture from getting wet whenever it rains. The recent rains caused lot inconvenience to the policemen working at this station. "My colleagues and me had to go to the roof top and make the way to drain out the stagnated water on the roof,'' the police inspector said.