Visitors who flock to Bapu's ashram at Sabarmati for solace, however, return with foul sewage-filled memories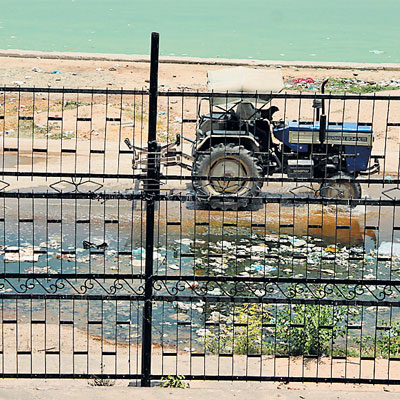 First a serious warning to all those who plan to spend some quality time at Sabarmati Ashram's pristine surroundings this weekend, especially at the prarthana bhoomi. Go armed with enough deos and face masks, if you want the 'quality' to remain intact, thereafter. For, of late, visitors' tours have been getting rudely interrupted by the stench that raises hell near the site at the Ashram's backside.
Blame the Ahmedabad Municipal Corporation (AMC) for its lackadaisical attitude which results in the dumping of untreated sewage in the Sabarmati River that flows in the Ashram's backyard. For the past several weeks now, tourists have been registering their ire against the odour from the sewage near the prarthana bhoomi, but to no avail.
Also equally to be blamed is AMC's private limited company, the Sabarmati Riverfront Development Corporation Limited's (SRFDCL) poor implementation of the project's interceptors.
Speaking to dna, director and secretary of Gandhi Ashram, Amrutbhai Modi, said: "We haven't complained about the sewage water issue to AMC, but are planning to do it soon."
dna also followed the stinking trail to ascertain from where the river receives its quota of sewage water. We found out that the sewage is released from Ranip before it flows below Dandi bridge and reaches Sabarmati Ashram. This, however, left us thinking as to why the drainage line was allowed to open into Sabarmati River and not diverted to the interceptors?
Responding to our query, one of AMC's engineering department officials, requesting anonymity, said: "There were nearly 40-50 outlets of drainage which used to open in the river. We tried to close down as many as possible. But some of them could not be diverted to the interceptors."
It is worth mentioning here that contrary to SRFDCL's tall claims of successful implementation of the interceptor project, the age-old sewarage outlets, which were never diverted, still release sewage water in the river. The company had said it carried out a survey to find out the total number of outlets and interceptors required to divert these connections, in order to stop sewerage water flowing in Sabarmati.