Maksud Mirza — surprise pick as Congress nominee from Navsari seat — is confident of giving a tough fight to sitting MP CR Patil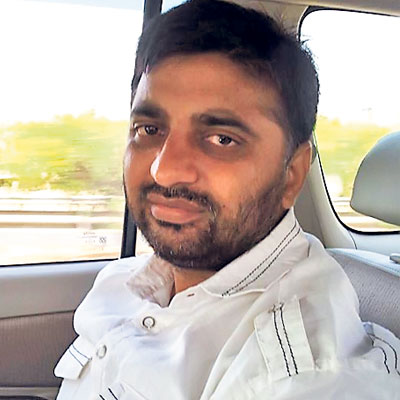 The electoral battle for Navsari Lok Sabha constituency can be best described as one between David and Goliath.
The Congress has fielded its young member Maksud Mirza — who has never contested an election earlier — and a surprise pick according to many party workers, to take on sitting MP and BJP candidate CR Patil. Mirza concedes that a tough battle lies ahead of him, but is confident of giving a tough fight to Patil.
Interestingly, Mirza is the only Muslim candidate fielded by both the major parties — Congress and BJP — for the upcoming election. "Rahulji (Rahul Gandhi) has said several times that he wants to see the common man in state assemblies and Parliament. I am an example that this is something he clearly believes in. I had never thought that I would be fighting a Lok Sabha election, definitely not at this stage of my career, but Rahulji and the party have reposed faith in me, and I will try my best to fulfill it," Mirza told dna.
Mirza, who will turn 40 only in June, may not have contested elections earlier, but he is no newcomer to politics. He has been associated with the Congress in several roles, first in NSUI, and later in the Youth Congress. He was also involved in the party's UP primaries, and as PRO of UP West. He, however, has no pretensions about taking on Patil, a cop-turned-politician.
"It will be a battle of poor versus rich. I cannot match his money or muscle power, but what has he done for the constituency in the last five years...nothing but inaugurations. This is what my campaign will be based on...to explain his failure as MP," Mirza said.
Navsari, which constitutes large parts of Surat city, has been a BJP stronghold for many years. The Congress' problems have been compounded by deep factionalism in the party's local units. However, Mirza claims that all local party leaders and workers have promised to work for him in the election.
"I am confident of getting everyone's support and will work towards convincing voters," he said.
Meanwhile, the decision to give ticket to Mirza has irked Koli Patel community and local leaders in Navsari. The community leaders accused the Congress party of ignoring their community — which has the highest voters in the Navsari constituency.
According to sources, Congress leaders in Navsari expressed discontent to GPCC members in Gandhinagar. According to them, Mirza has little knowledge about the issues in Navsari and is an unknown face for majority of the party workers.