First-timer Kulkarni feels he will 'pass the exam with good score' as he has done good homework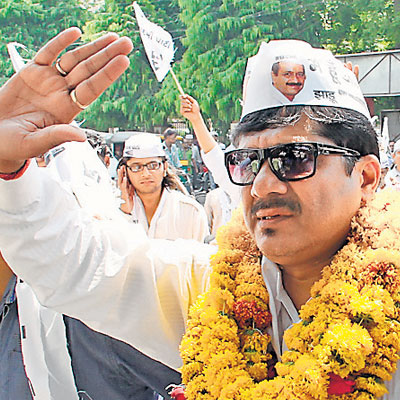 He is all set to enter the labyrinth of politics and figures in the list of first-timers in the Lok Sabha elections- 2014. But 43-year-old Sunil Digambar Kulkarni, who shifted to Vadodara just seven years back, did not seem nervous when he came to Vadodara district collectorate to file his nomination from Aam Aadmi Party (AAP) to contest the election against veterans in politics, Gujarat chief minister and BJP's prime ministerial candidate Narendra Modi and Madhusudan Mistry of the Congress.
The nomination of Kulkarni, an engineer and managing director of an infrastructure firm, is seen as a complete shocker for people in Vadodara- be it within the party or among the residents- mainly because he is not a known name. He feels he will be able to 'pass the exam with good score' as he has done good homework for his constituency.
"Vadoadara is among the cities in Gujarat which has not seen development like other cities. Look at the other cities with a population of 18 lakh to 20 lakh, they have seen so much of development. But many areas in Vadodara still struggle to get safe drinking water, people struggle to commute on roads filled with potholes after every spell of rain here. Because the civic body has allocated budget, they use the public money in resurfacing it," he said talking about the issues he intends to raise in his campaigning.
He, however, said the party was yet to announce the strategy for the campaigning. When asked how he plans to battle Modi and Mistry, who have several decades of experience in politics, he said: "Everybody has done his homework, Modiji has done it for his party, Mistry has done it for his party. Its like an exam, we know every one is going to appear in the exam, but we still do not miss it." He hopes to 'score well' in the exam with good homework in his kitty.
Kulkarni said that he would clarify to the voters about the wrong impression created by the fiasco in Delhi when AAP quit the government in 49 days. "If Modiji calls Arvind Kejriwal AK-49, their government should be called AB-13 as they (Atal Bihari Vajpayee) did not get majority, formed the government and quit in 13 days," he said.
Kulkarni, accompanied by a few party members, said the prime point is to take on corruption in Gujarat. "I say, there is 110% corruption in Gujarat. Being an engineer by profession, I know all the layers of corruption in Gujarat- be it ministers, IAS, local corporators. We will work hard to eradicate it," he said.