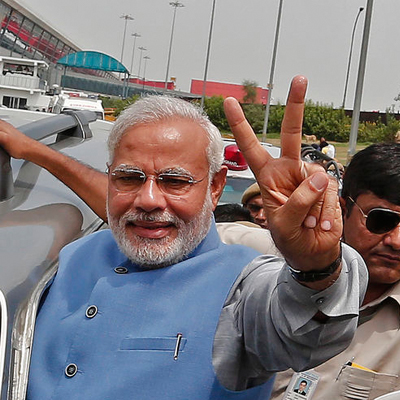 Liu Zongyi, a Chinese government expert with the Shangai Institute for International Practices, has said Indian Prime Minister-elect Narendra Modi's functioning style is similar to that of the Chinese and it will "propel the China-India relationship".
Sweeping away fears that Modi will be autocratic and dismissing worries about his Hindutva ideology, Liu wrote on globaltimes.cn that Modi's right wing credentials, like that of the United States' Richard Nixon's will rather help in strengthening bilateral relationship between India and China. Global Times is China's Communist Party's mouthpiece.
Former US President Richard Nixon's role in changing US-China relations is held in high regards even today in China. His visit to China in 1972 reopened dialogue between the US and China, which has been at loggerheads for 25 years. The historic visit in the Cold War era came to be known as 'the week that changed the world'.
According to Liu, Modi will keep in line with his promise of bringing development to India and hence won't risk bringing up territorial disputes with China. Liu says he would in fact seek to maintain stability and peace in the region. Modi "needs a peaceful and stable neighbourhood to facilitate domestic economic development", says Liu.
Narendra Modi's close affinity to Japan's Prime Minister Shinzo Abe and the West's view that draws similarities between Modi and Abe doesn't bother Liu. Abe, since becoming the Japanese prime minister, has turned a new leaf in Japan's international policy, making it more assertive. This has lead to a rise in tensions with China regarding border disputes. Under Abe's rule, Japan was the only nation that opened its doors to Modi ​and forged economic relations with him and Gujarat when the US, the UK and other European countries imposed a visa ban on him.
Liu feels Modi's rhetoric during the elections regarding Indo-China border issues won't transform into aggressive action but help it "solve the thorny issue". "The Sino-Indian border issue was generated under the leadership of then Congress leader Jawaharlal Nehru, Modi and the BJP have no historical burden over this", he says.
In fact, Liu accuses the West of "fomenting discord between China and India" and is assured that Modi would look at maintaining peaceful relations with China that would help further economic relationship.