Proud father highlights Maharashtra seamer Samad Fallah's numbers on cafe menu in Pune.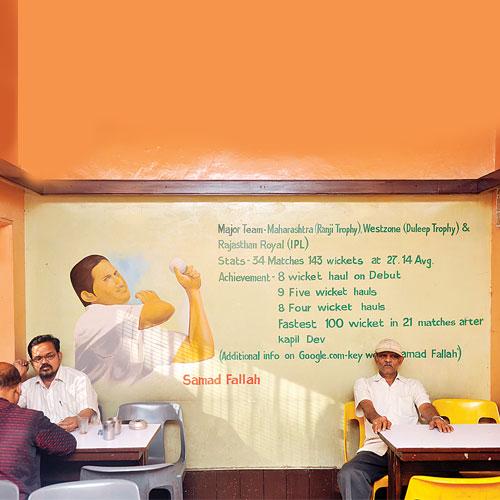 Mohammad Hussain Fallah is proud of his son. And he has reason to be. Samad, who plays for Maharashtra in the Ranji Trophy, has picked up 21 wickets this season. In fact, the left-arm seamer been a crucial member of the side for many years now. He even played a vital role in his side's eight-wicket win over Mumbai last week.
Hussain, who owns and manages Cafe Alpha in the city's Shivajinagar area, has taken that extra bit of effort to highlight his son's achievements. Glance through the menu card and the statistical highlights of Samad's career greet you. "These are my son's figures when he completed 150 Ranji wickets," Hussain says, adding, "This is my gift to my son," he adds.
"The painter could not paint a picture of my son, but the figures are there for everyone to see," Hussain says, pointing towards the wall (see pic).
Samad made his debut against Tamil Nadu and picked up eight wickets in the match. Since then, he has been an indispensable member of the side. "He gave us a surprise when he was selected to represent Maharashtra in the Ranji Trophy and I wanted to give him something in return. This is it," Hussain says.
Samad is amused to say the least. "It was a surprise, and funny, to some extent, but it is something my father has done for me," says Samad who along with Shrikanth Mundhe and Anupam Sanklecha ran through the mighty Mumbai line-up and bundled them out for 129 in the second innings of quarterfinal contest.
Hussain hopes Maharashtra go all the way. And yes, he has planned a surprise for the entire team.