Once spearhead of Indian attack, Munaf Patel now finds no place even in IPL. In the city for Mushtaq Ali T20, fast bowler tells G Krishnan he is taking it one game at a time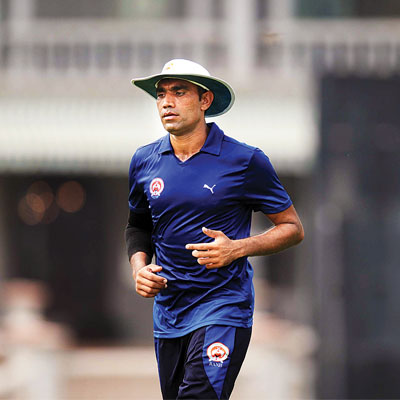 A good 20 minutes before the start of Baroda's Super League match against Delhi in the Mushtaq Ali Trophy T20 at the MCA-BKC ground on Wednesday, Munaf Patel sank quietly into a chair outside the boundary line and stared at the lush green outfield deep in thought.
He was, perhaps, wondering where things went wrong in his career that he's going to miss IPL for the first time since its inception in 2008. When two of his Baroda mates – Irfan Pathan and Yusuf Pathan – have left the team after last week's zonal round to join their respective IPL franchises, and a third one in Deepak Hooda will join Rajasthan Royals, Munaf's IPL team for the first three years, on Thursday, Patel was left wondering why he went unsold in this year's IPL auction.
He was perhaps wondering if his international career is on a decline, just like the aeroplanes descending at the backdrop of the BKC ground into the not-so-far away Santa Cruz airport.
He sat unmoved for more than an hour in his Baroda practice shirt, once in a while discussing strategies with his teammates as his side had begun their batting. Halfway through the Baroda innings, the 30-year-old lanky pacer consoled himself saying that perhaps the franchises did not deem him to be fit enough or that his bowling needs further improvement and hence he was overlooked.
Trying to remove these thoughts from his mind, he got up and headed to the dressing room to freshen up and come out in his team colours and a white floppy hat to go out and spearhead his team's bowling as Baroda posted 131/6.
'Munna bhai', who has played 61 IPL matches over the last six editions, did his best to hide his emotions and wore a grin whenever greeted by familiar faces. "I never thought I will go unsold in IPL auction," he says as he settles down to a chat with dna after bowling Baroda to a 16-run victory with figures of 4-0-10-2.
"Perhaps they thought I needed to improve more on my bowling and fitness. Frankly, I don't think much about not being in IPL but try to focus on every game that I play and give 100 per cent. I take it one game at a time and not even think about the next one. Am not worried about it. Am happy with my performances."
Injuries have hampered his international career that began in March 2006 and lasted till September 2011 across all three formats. On the odd occasion, he was even found wanting for performances too.
Often have people spoken in the open that Munaf, like a few others, tend to become fit before IPL. He doesn't take them seriously. "People can say what they want as they are being paid to talk on TV. Last year, I had an ankle surgery. After that, I played Ranji Trophy, then Vijay Hazare Trophy one-dayers, and now the T20. No bowler wants to stay outside for nothing. My job is to play cricket, I can't do anything else. I want to play as much as I can till about 36 or 37 years," he says, maintaining that cricket his first (and only) choice.
Munaf says that he is perhaps the fittest he has been all his life. He has bowled impressively in front of the chief national selector Sandeep Patil that last one week in T20. It was the same Patil, who as an India 'A' coach said 10 years ago that Munaf had a mental problem tackling fitness issues.
However for Munaf, it is only performance on the field that matters, not who is watching or who is not. "Wherever I get chance to play, I give 100 per cent. Having said that, I feel a little disappointed that I am out of the Indian team. Injuries have kept me from playing for the country. If you don't perform and are dropped, that is a different matter," he says, trying to hide the disappointment.
He is looking ahead with hope, the burning desire to make an India comeback visible in his eyes. "I feel good being fully fit now, and am enjoying my bowling. I want to return to the Indian team. I will continue to work on my fitness and give my best," says the once-angry-young-man from Ikhar who has in recent times kept his emotions under check.