Chepauk never fails Pakistan. It was an ecstatic Nasir Jamshed who kissed the ground after completing his century.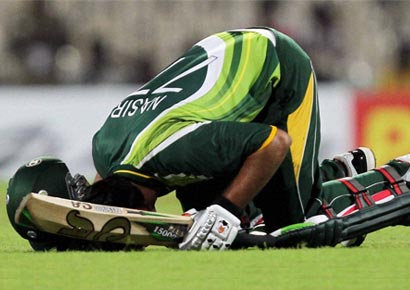 Chepauk never fails Pakistan. It was an ecstatic Nasir Jamshed who kissed the ground after completing his century. Junaid Khan's four-wicket haul almost killed the match before it began. Both played pivotal roles with bat and ball as Pakistan scripted a six wicket victory over India here on Sunday.
Despite the humid conditions and Bhuvneshwar Kumar's probing first spell, defending 227 was always going to be a tall order for India.
The hosts started on rickety legs, as their top five were done in by some terrific swing bowling by Khan and Mohammad Irfan. India's top-order's inability to negotiate pace and swing was once again in stark view as they were felled in an identical manner.
Virender Sehwag, pushing an incoming ball to cover, found his off-stump dismantled. Gautam Gambhir, attempting an expansive drive off Irfan's full delivery, saw his sticks in tatters. Virat Kohlifailed to cover a Junaid delivery and the woodwork was in ruins again. Yuvraj Singh was beaten by another full-length ball from Junaid while Rohit Sharma nudged one straight to the third slip where Mohammad Hafeez took a spectacular reflex catch.
At one stage, it did appear that the hosts would struggle to post 200. It was up to MS Dhoni and Suresh Raina to resurrect the innings, and the two pieced together a 73-run stand. The pace of scoring was excruciatingly slow, but it gave the Indian innings stability. After Hafeez castled Raina for 43, Dhoni joined hands with R Ashwin to forge a 125-run partnership off 101 balls. Irfan's last over proved to be the most expensive, with Dhoni whipping him for two consecutive fours before bringing up his hundred with a lofted six.
Chasing 227, the drama unfolded instantly. Hafeez allowed Bhuvneshwar's first ball to go by but the huge in-swinger uprooted his off-stump. Kumar did not stop there. Five overs later, he snaffled Azhar Ali — the batsman failing to control a hook and holding out to Rohit Sharma at mid-wicket.
With the asking rate never beyond their reach, Pakistan with the help of the seasoned campaigner Younus Khan and Nasir Jamshed steadied the innings. Jamshed however got a reprieve — Yuvraj, of all people, dropped a sitter at point.
Later, Younus scooped a full toss to R Ashwin at mid-wicket, with the score at 133.
Thereafter, it was the turn of Misbah-ul-Haq and Jamshed to take Pakistan home. Misbah was consumed by Ishant's slower one, but with 172 on board and needing another 55 off 66 balls, the visitors were well and truly in control. To add to India's woes, Kohli slipped and landed on his knee in the middle of an over and was seen writhing in pain. There was more despair for India. Shoaib Malik was caught behind off Ashwin only for the third umpire to declare it a no ball. Malik and Jamshed stroked the ball around for the ones and twos and overhauled the target with 11 balls to spare.