The new website is now live in India, Singapore, Malaysia, Indonesia, Philippines and Vietnam.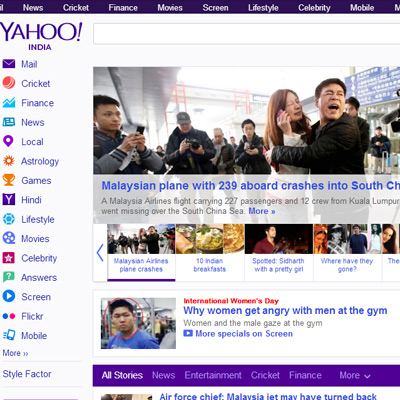 On Friday, Yahoo! India, Singapore, Malaysia, Indonesia, Philippines and Vietnam gave users a new-look homepage to the portal.
The new, revamped website has a cleaner look and gives users better personalisation features that were earlier unavailable. This new homepage is modelled on the Yahoo! US page which has these features.
What's novel:
Endless scrolling which was earlier not even an option is now available to users.
Users can now check out news stories as they scroll. This feature gets rid of the need to click for more content.
Local weather, horoscope, trending stories, Flickr photos, stocks and upcoming birthdays (through Facebook sign-in) can all be viewed with ease.
This new and improved homepage comes just a few days after Yahoo! decided to block Facebook and Google sign-ins to use its services.
Once signed in to Yahoo!, users can save stories to read later. To do this, every story has a 'Y' button next to it which enables stories to be saved when that button is clicked.
Users can get news about the things they like or are interested in.
Aim behind the redesign
Yahoo! through this new homepage design wished to become a part of their user's daily habits.
The new look will eventually be reflected on Yahoo's other sectional sites such as Cricket, Finance, Movies, and Lifestyle, in addition to Yahoo's five local-language Indian pages.
The portal and search engine who lost its leadership position to Google, is through this change trying to make a comebacke in India on the leader's table when it comes to emails and search with the launch of its new homepage.
Yahoo! recently acquired startup - Vizify that lets people create infographics and videos out of social data, it lets people create interactive visualizations based on data involving what they share online, creating a type of Internet biography.
A huge task lies ahead as Google is continually reinventing itself but Yahoo! seems to be headed in the right direction with this change that is more user-friendly.