Striking similarity between actual question paper and the one leaked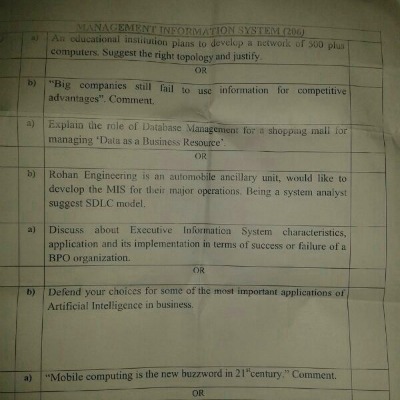 Pune: It could be yet another Pandora's box opening for the University of Pune (UoP), as all eight questions from four sections of the Management Information System (MIS) paper of Master in Business Administration (MBA) second semester were word-to-word same with the one that was leaked on WhatsApp on Saturday.
After this leak of question paper, the sources from the UoP examination department feel that it could be the handiwork of someone who is related to paper-setting. The varsity registrar Narendra Kadu on Monday approached the Chatuhshringi police station and lodged a complaint in this regard.
On Saturday, a student of the Sinhgad Institute of Management, Vadgain Budruk campus, Prasad Waikar, was shocked to see that eight questions from the paper were similar to the one that he had got on his WhatsApp in the wee hours of Saturday. The moment Waikar came to know that the question paper was leaked, he did not proceed and refrained from writing the paper and later complained to the principal of the college and subsequently approached the UoP controller of examination.
"I received the question paper on my cellphone around 1.30 am on Saturday, but I ignored it thinking it to be some prank or mischief," said Waikar. He, however, got the shock of his life after he saw the same questions in the examination which took place on Saturday afternoon.
Speaking to dna, Kadu said that it was not the actual printed paper which was leaked, though there is some similarity between both the papers.
"We have lodged a complaint and it is now for the cops to investigate and find out who is the culprit behind sending the paper through online messaging service," he said.
Police sub-inspector A D Sable said, "We are trying to find out the source of the message from where the question paper was sent. We have already found four persons on whose cellphones the image of the paper comprising all eight questions was circulated," he said.
Meanwhile, UoP sources said that looking at the sequence of the questions and the word-to-word similarity , it is quite possible that this could be the handiwork of someone who is involved in the process of setting papers.
dna has a copy of the image of the paper which was leaked and it has striking similarities. The questions are same, the sequence is similar and even the alternatives are also similar.