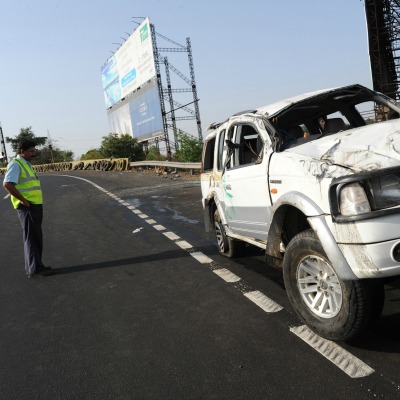 Pune: To identify the root cause of increasing number of road mishaps on the expressway, superintendent of police (highways), Rashmi Karindkar will be inspecting the e-way on Monday. A panel of experts will also accompany her.
She will be initiating a drive against heavy vehicles that do not follow lane discipline. Speaking to dna, Karindkar said, "Considering the increasing number of accidents, it is of utmost importance to put some safety measures on the e-way. During my visit I will be checking the road condition in the accident prone area. We will focus on measures that can be taken to avert the mishaps."
The highway SP added, "We will send the inspection report to Maharashtra State Road Development Corporation (MSRDC), requesting them to work on safety measures on priority."
Citing speeding vehicles as one of the primary reasons for road accident, the highway traffic police have forwarded a request to the Maharashtra Director General of Police (Traffic) for procurement of speed guns. As on date, the highway traffic police have only two tripod-mounted speed guns, that too, not in working condition.
"It is impossible for the highway traffic police to stand on the middle of the e-way and check the speed of the vehicle with speed gun. It is because, using speed guns while standing at the side of the lane does not provide the actual speed of the vehicle. Therefore, I have sent the request for radar speed gun with 16 GB memory which can give us the picture of the driver and the identification of the vehicle," Karindkar added.
The expressway may have reduced the travel time and provided a better connectivity between the two cities, but there is a significant rise in the number of accidents due to tyre burst, lane cutting, over speeding etc.As many as 17 fatal accidents with 27 deaths were recorded in 2012, as compared to 25 accidents with 44 deaths in 2013 on the expressway.
Pune Mumbai Expressway
Eye-Opener
2012
Fatal accidents: 17
Deaths: 27
Major accidents: 23
Injured: 54
Minor accidents: 38Injured:79
2013
Fatal accidents:25
Deaths: 44
Major accidents: 54
Injured: 98
Minor accidents: 52
Injured: 125
2014
Fatal accidents:08
Deaths: 06
Major accidents: 09
Injured: 08
Minor accidents: 05
Injured: 15