European Union bans import of mangoes from India. Trader community upset as it would result in a loss of Rs100 crore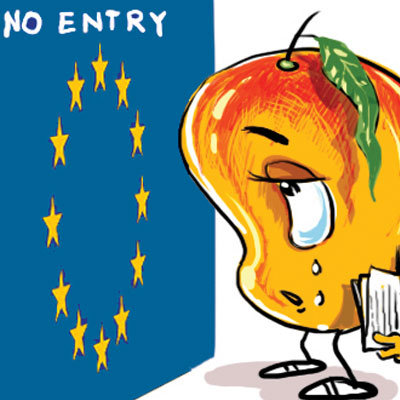 The European Union has left a sour taste among mango exporters with its decision to temporarily ban the import of Alphonsos from India from May 1 due to the alleged presence of pests in them. The trading community pegs the loss because of the ban at more than Rs100 crore as India is the leading exporter of mangoes in the world. India accounts for more than half of the total mango production in the world.
Industry experts said the development will adversely affect thousands of Mumbai-based businessmen who regularly send mangoes as gifts to their clients and lovers of the fruit in Europe. "There are thousands of businessmen, especially from the diamond trader community, who send gift boxes containing mangoes during this season to their clients. The ban will not just affect them but also other mango lovers from Europe who will be deprived of the king of fruits," said APMC director Sanjay Pansare, who is also an expert in vegetable and fruit trade.
A doting father who had planned to take a box of mangoes for his daughter in Europe is saddened with the ban. "It is upsetting as my daughter loves mangoes. I was looking forward to taking a box of mangoes when I travel there in May," said the senior professional employed with a private firm in Mumbai.
The 28-member European Union announced the ban on the import of mangoes from India after a certain consignment imported last year was found to be infested with pests. The ban has also been imposed on snake gourd, bitter gourd, taro plant, and egg plant. A revision of the ban will take place before December 31, 2015.
Maharashtra, which produces large quantities of Alphonso, Badami, Kesar, Neelam and Payari varieties of mangoes in Sindhudurg, Raigad and Ratnagiri region, is among the leading exporter of mangoes to foreign countries, including the US, Gulf and parts of Europe. Most of these fruits are exported from Chhatrapati Shivaji International Airport in Mumbai. Airport sources said airlines stop taking other export commodities to accommodate the rush of mango consignments, which forms about 80 per cent of perishable export during the peak months of May and June. An Air India spokesperson, however, told dna: "The ban by EU will not affect the earnings of the airlines as export of mangoes will be substituted by other commodities."
The UK imports nearly 16 million mangoes from India and the market for the fruit is worth nearly 6 million pounds a year.