Mumbai traffic police has been working around the clock to keep a tab on traffic violators, maintain smooth flow of traffic and curb unruly motorists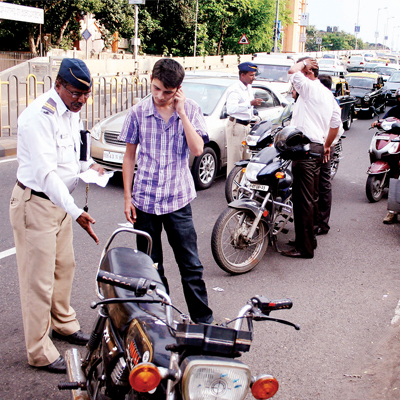 With the city's traffic increasing by the day, more people end up violating the laws, making it even more difficult for the cops to manage the traffic situation. This hampers overall policing efforts and may also be life-endangering. For instance, when a car jumps a red signal, there are higher chances that it may crash into another vehicle.
In an attempt to tackle such issues, Dr. BK Upadhyay, Joint Commissioner of Police (Traffic), has chalked out various campaigns. The man in command says, "Currently, we have launched Operation Eagle all over the city to tackle four major traffic violations. This includes car stopping ahead of the stop line, jumping red signals, motorists not wearing helmets and vehicles driving on the wrong side of the road."
In the last 20 days, under this operation, the Mumbai police has charged around 51,000 people against these violations and have collected a whooping Rs45 lakh as fine. Another initiative includes booking unruly motorists who access the flyovers where two-wheelers are banned.
Dr. Upadhyay adds, "Over-speeding is a major traffic violation on the Bandra-Worli Sea Link, so we deployed teams to keep a watch in this area. Another aspect to better the traffic policing in the city is to boost the morale of the traffic cops. These police officials spend long hours standing under the sun and till late nights, and this directly affects their health. Hence, we launched Susamvad, an initiative where we talk to these cops and understand the ground problems for traffic handling. This gives them a chance to address their day-to-day issues."
Dr. Upadhyay informed us that yoga sessions are conducted to counter the health risks and inculcate discipline in the cops. Every month, a 'traffic cop of the month' is selected and felicitated with a cash reward and certificate. This is an assurance that the traffic management work is being appreciated.