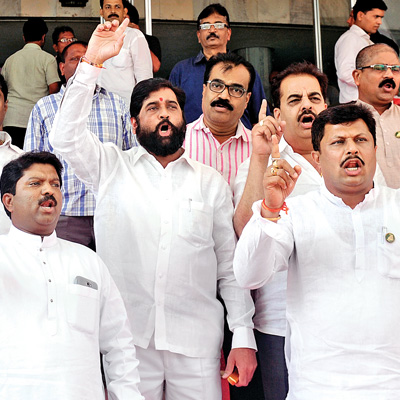 The toll issue, which was making news in the run up to the Lok Sabha elections, made a comeback on Monday. Two Shiv Sena MLAs from Kolhapur – Rajesh Kshirsagar and Sujit Minchekar – were suspended from the assembly after they demanded scrapping of toll collection and a debate on the subject. The assembly was then debating the state budget when the two went to the Speaker's chair and lifted his mace.
After warning the two MLAs, deputy speaker, Vasant Purke, who was in the chair, suspended them till the session ended. Pratap Sarnaik of the Sena was seen holding one of the MLAs, while Eknath Shinde seemed to be giving them instructions to stay back. The House was adjourned for 10 minutes, but the two MLAs continued to be in the well of the house.
Purke then asked the guards to remove them. As Shinde shouted slogans, Sarnaik held on to one of the MLAs. "Do not hold on to them, they are suspended from the house. How are they even inside?," asked Purke. As Shinde asked the MLAs to not move out, one of them lay on the floor of the house. When the house resumed after another adjournment of 10 minutes, opposition members, including Maharasthra Navnirman Sena (MNS), continued shouting.
BJP, which is in alliance, however, was not in the well. Devendra Phadnavis, a BJP leader who wanted to speak on the budget, sought the speakers help to end the chaos. "Tumhi mala sarakshan dya (give me protection to speak)," Phadnavis asked Purke.
"Your (two MLAs) performance is good," said Purke, as he asked them to leave the assembly. Around 12 guards lifted the two MLAs from the well of the House. Sarnaik, who tried to stop the guards, was warned again by the speaker for his conduct. Talking to the opposition, he added, "Today's target was so much only. they have passed their target. All of you now sit down."
Sena leaders had turned violent in January this year and burnt a toll booth in Kolhapur. The two suspended MLAs hail fro the area. MNS, a political rival of Sena, too led an agitation on the issue in the state.
MNS workers had broken toll booths and party leader Raj Thackeray had a meeting with the chief minister on it. Toll from certain areas was lifted soon after the meeting, to which rivals of the parties slammed as a "fixed match".