A store-cum-studio in Andheri provides an able platform for young and upcoming designers to exhibit their work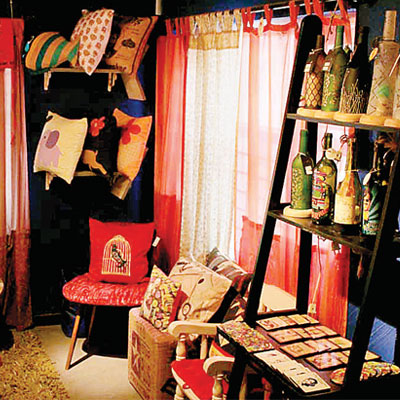 A couple of years back, the words 'quirk' and 'kitsch' suddenly broke out onto the design scene. There were young, talented and motivated designers keen to change the design scene but limited by the fact that their work could only be displayed online. Then in the suburb of Versova, in a well-maintained, two-storied bungalow, a design store opened its doors to these young designers. The founders called it Bliss—a "one-stop lifestyle destination for creativity".
Located in a quiet lane in Versova, Bliss opens into a compound decorated with Bollywood posters, hanging birdcages, colourful planters and furniture. The store inside is a riot of colours–a kitsch haven. The ground floor has clothing and accessories, while the first floor has furniture, home décor items and other knickknacks.
Bliss for designers
Bliss was started as an offshoot of the Vibe Design Lab, a design firm started in 2005 by husband-wife duo of Priyal and Mallika Desai Thakker. "We did many interior projects and interacted with a lot of design people. We found that there was no single place where we could find products created by young designers. There was no platform but there were design labels mushrooming everywhere. So, we decided to open up a place where everybody could showcase their work," says Mallika.
When Bliss opened, their focus was on displaying the works of young and established designers. Over time, they realised that customers were more interested in the works they had not seen or heard about before; they wanted something new. "We decided to take that idea forward and concentrate on new and upcoming designers," says Mallika. Bliss features the works of about 80 designers and every three months, they make it a point to bring in one more designer—vetted by Mallika—into the fold. The store features now-familiar names like Chumbak, Happily Unmarried, Poppadum Art and Bewakoof.com. On display is fun bar games, shot glasses, coasters, planters, cutlery, cushion covers, fridge magnets, mirrors, soaps, etc. In short, it is filled with things you may not necessarily need but certainly want.
Just a little extra
On the first floor, a closed door is the only indication that there is something more to Bliss. A sectioned-off area serves as the workplace for their design studio where they take up individual design and interior styling projects.
Every space at the store has some purpose. The compound, walled off from the road outside, serves as a venue for food popups, exclusive sit-down dinners, an annual theme market where they feature new designers, and other events. "We do something every two months. It adds that little extra to the ambience," says Mallika. "We do not want to be just a shopping destination."
Their location in Versova has often been a cause for complaint with some customers who question their decision to not open in Lokhandwala or Linking Road. The Thakkers, who live in Juhu, are happy with the space. "Our office has always been in Andheri, so we let it continue. When we opened, there was nothing in this area and we were lucky to find this location," says Mallika. She believes Versova has a lot of potential to evolve into a space that encourages creativity because of the wonderful mixture of people living there.
Bliss will complete five years this August and it is safe to say that they have seen Indian kitsch evolve and grow. Their only motto is "keeping design fun and affordable".