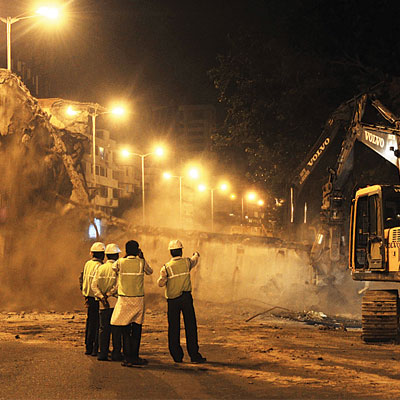 In what would be a major relief for those visiting Girgaum Chowpatty, the Brihanmumbai Municipal Corporation (BMC) plans to invite tenders for reconstruction of the foot overbridge (FOB) that was brought down in August last year.
The civic body has chalked out its plan, while the traffic department is studying the traffic pattern in the area to finalise details of the FOB.
The city's oldest escalator FOB, built by the Patel trust, was demolished as it was in a dilapidated condition.
Unlike the previous L-shaped design, the new bridge is expected to be constructed over the Netaji Subhash Chandra Bose Road connecting Girgaum Chowpatty and Sukh Sagar junction. The leg that connected Sukh Sagar junction to the footpath on the other side is not in the plan, said senior civic officials.
The new FOB will be 50 metres long and about six metres wide. It is expected to cost about Rs2 crore.
However, a senior civic official said that the civic body was still uncertain about the location of the FOB as the previous bridge was seldom used.
"People rarely used the old bridge. So we are wondering whether a new FOB is required at all. There has been a mixed response from people on this, therefore the delay," the official said.
SVR Srinivas, additional municipal commissioner, said the process to finalise the tender would be completed after the civic body's traffic department completes its study. "As of now, the plan is to construct a basic FOB above the Netaji Subhash Chandra Road," he said.
But the traffic police have a different story. BK Upadhyay, joint commissioner of police (traffic), said, "Any alternative for a pedestrian crossing in the area will be good. During weekends, a large number of visitors come to Chowpatty. The traffic congestion in the area increases, especially during the evenings, as people walk across the road in the absence of the FOB."