The multilingual theatre fest, Centrestage, that prides itself for inspiring exceptional and diverse theatre, is a treat for downtown theatre lovers.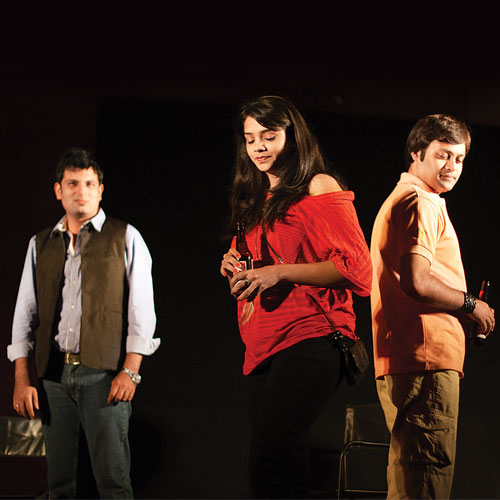 For several days every year, the NCPA, flings its doors open to nascent stage productions from Mumbai and elsewhere. Centrestage stands out from the throng of theatre festivals across the country by being India's only multilingual festival of premiering plays. Vikash Khurana, who heads Stagecraft, is directing and acting in Rope, a stage adaptation of Patrick Hamilton's critically-acclaimed Hitchcockian thriller of the same name, says, "It is empowering to think of theatre without the trappings of language. This is especially relevant in a country like India and in a cosmopolitan city like Mumbai. A multilingual collection of plays draws diverse groups and thereby diverse audiences."
For both the audience and the performers, the festival is an excellent window into the works of artistes from across the country. For the incipient performer this becomes a platform that helps to explore different styles of theatre within the context of an engaged audience, one that is open to various modes of dramatic expression. "It is a great platform for plays to open and showcase themselves, especially if you are not a part of any of the major groups," says Neville Shah, whose group Schitzengiggles is staging The Complete Works of Shakespeare, an abridged version of the bard's plays, this year.
Faezeh Jalali, a versatile young theatre actor residing in Churchgate, agrees. Jalali, whose first brush with theatre happened at her alma mater, J B Petit School, says, "It is great to have a platform like a theatre festival to open a play, though many a times a play that premieres in a festival does not get a good run. Of course this depends on the production but I feel that it really helps newer groups if they can manage to get at least two shows for each play in the fest, considering how difficult it is to get a performance venue on Mumbai." Her directorial venture, Ladies Special, dwells upon the choices that a contemporary Indian woman has to make.
Deepa Gahlot, who heads the theatre and film programming section at the NCPA, believes, "Centrestage has grown to become an important festival because it encourages new work.
Several of the plays that open at Centrestage often run through the next year and beyond–so it has become a kind of catalyst for new talent." The festival has spawned a slew of successful plays–Aaj Rang Hai, Meera, Punascha Honeymoon, Tichi 17 Prakarne, Chakra, Baghdad Wedding, Preth, Pramey, Bombay Talkies, All In The Timing, to name a few local ones. But perhaps the best example would be Akvarious Productions' The Interview, which went on to win the Mahindra Excellence for Theatre Awards and played to rapt audiencesafor more than 85 performances.
NCPA has never shied away from dipping its fingers into varied styles of theatre. This year, Commedia dell'Arte and a Hitchcockian thriller sit comfortably beside street theatre and a study of Tagore. Veteran groups such as Akvarious and Tram Theatre rub shoulders with groups like Yatri, Schitzengiggles, Cartel and Jhoom who are performing for the first time at Centrestage. But it is not just the plays that have evolved–the audiences have changed as well. Gahlot says, "This time, the audience has swelled in number, but what is significant is that this time I am seeing many faces that are not regular NCPA theatregoers, which means we have been able to cast the net wider, perhaps due to better promotion."
The festival has already unleashed the effortlessly assured debut of the Commeida dell'Arte-inspired sketches, It's not Waht You Tihnk!; the effulgent performance of Chennai's Karthik Kumar in his one-man performance of Ali J and the comic capers of Laxmipoojan. By the time the festival ends, it will have added 15 new productions in English, Marathi, Hindi and Gujarati. Akarsh Khurana, proprietor of Akvarious, puts it succinctly with, "I think the greatest achievement of Centrestage is that within a fortnight at the end of the year, it sets up the canvas for the following year."
Centrestage is running till 8th December, 2013.