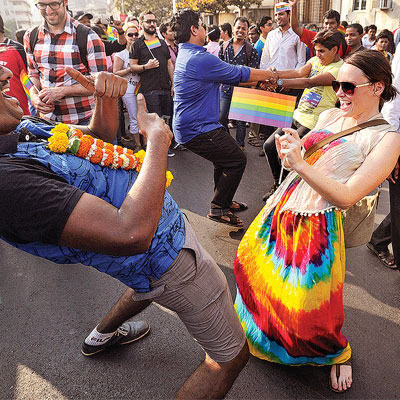 In its seventh edition, Mumbai's Gay Pride got bigger and bolder, attracting crowds from across the globe. Colourful costumes, innovative headgear and a multitude of balloons in rainbow colours only added to the atmosphere charged with slogans, chanting, singing and waving of whacky, tongue-in-cheek banners and posters which left many chortling and some agape.
"Ideally, the march is about taking pride in what you are. But this year's upsurge in numbers is a reflection of the community's anger and hurt over being recriminalised," said one of India's gay rights pioneer Ashok Row Kavi.
"If courts think they can brush us off and treat us like sub-humans they need to see how they have ended up giving the movement a shot in the arm instead. This movement will grow and succeed."
Filmmaker Sridhar Rangayan and Humsafar Trust CEO Vivek Anand echoed this sentiment. "We know we have a long battle ahead. But we will prevail and succeed. In the meantime, we continue to plot our struggle with creative socio-cultural initiatives like films, music, paintings and theatre," said Rangayan, adding, "This will not only help us as a community but also help dispel wrong notions and stereotypes among those outside."
Others, such as equal rights activist Harish Iyer, brought up the murder of Nido Taniam from Arunachal Pradesh who was killed in Delhi on Thursday. "The premise was discrimination based on his hair and looks. Will I be killed too for protesting against discrimination on the basis of gender or sexuality? The sad reality is that the country's highest court doesn't think it's important to grant me a life of dignity and a life without discrimination. It rather believes that we are a minuscule minority whose rights, and thus our 'so called' plea for equality, are unimportant."
There was a sizeable turnout of foreigners at the Pride. Entrepreneur Angshuman Das, had flown in from as far as Hong Kong. "The openness and acceptance in HK helped me come out 16 years ago when I settled there. So much so that I co-produce the Mr Gay HK pageant. It's sad to see that India, which has always had a culture of amalgamation and acceptance, is going the other way," said Das.
Deputy director at Alliance Française David Cordina, said he could feel the hurt and fear of the community. "Alliance Française has been a friend of the LGBTQ community offering its space for activities like film screenings and meetings," he said.