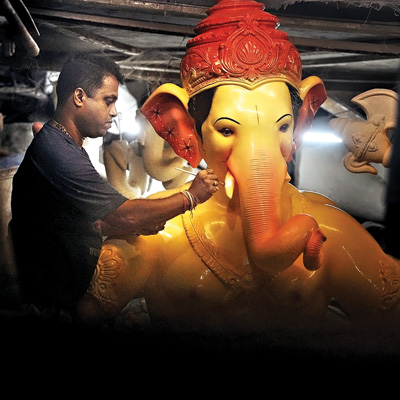 Santosh Kambli, the third generation of a family that has been sculpting the Lalbaugcha Raja idol since 1935, is an extremely busy man these days. He has been flooded with requests to make replicas of Mumbai's most famous Sarvajanik Ganapati by those who find it difficult to visit Lalbaug or wait in queue for darshan.
Kambli has been making replicas for the past three to four years. This year, he had made 150 small replicas and 30 larger idols (six to nine feet tall). At the same time, he has also refused more than 400 orders simply because he is hard pressed for time and space.
Kambli's clients include politicians, Bollywood stars and policemen. He has sculpted Bappa for actor Shilpa Shetty and FDA minister Amit Deshmukh. He has even copyrighted his creations.
"Today, whatever name and fame we have it is because of Raja. A lot of people approached me to get a miniature idol of Raja, but I could not accept all the requests. We don't have time and space. Also, we want to maintain quality so we take only limited order,"said kambli.
He said idol-making has been his family's business since his grandfather's time. "We have a different and unique style for Ganesh idols. Due to the cut-throat competition, people can easily make a die of our idols and run a roaring business. We want to secure our talent and uniqueness. We have even got copyrights for our idols."