Mumbai, majhya priya rande tujhyatun mee phatkya bhananga sarkha jaanar nahi (Mumbai, my beloved whore I will not leave you disgraced), wrote Namdeo Dhasal, 64, in Golpitha.
This work bared the ugly, blood-dripping entrails of society's underbelly disturbing and unshackling an established upper-caste comfort zone which had held the world of Marathi literature in a stranglehold from the early 13th century.
"To do that single-handedly requires an immensely brilliant sensibility and observation. To brush him off as only a Dalit writer would be grossly wrong and unfair. He set the world of literature and poetry in particular in churn by rubbing noses in the ugly side of the world, warts and all. Why should we imprison a great litterateur like him in categories that suit our narrow sensibilities?"
said writer Kiran Nagarkar, who said Dhasal's passing away was "a big loss for the human rights movement".
The firebrand rebel passed away from complications after a prolonged battle with colo-rectal cancer at the Bombay Hospital around 4am on Wednesday. The Padma Shri awardee had a medical history of the auto-immune disorder myasthenia gravis. In fact, he had several health scares; the worst was in 2007. Actors Amitabh Bachchan and Salman Khan then helped raise funds for Dhasal whose family was on the verge of selling their house to pay his medical bills.
For more than four decades, the L'enfant terrible of Marathi poetry and firebrand writer's name remained synonymous with struggles of varying kinds. Though the Dalit literature tradition is old, the term "Dalit literature" was introduced only in 1958. Dhasal was greatly inspired by the work of Baburao Bagul, who employed photographic realism to draw attention to the circumstances which those deprived of their rights from birth have to endure.
Dhasal's poems broke away from stylistic conventions. Whether it was Mumbai's red-light area, where his father was assistant to a local butcher, or his brief stint as a cabbie, unmindful of how it would scandalise the middle class, he borrowed heavily from his milieu.
Calling Dhasal the quintessential Mumbai poet, author and poet Arundhati Subramaniam said, "Raw, raging, associative, almost carnal in its tactility, his poetry emerges from the underbelly of the city — its menacing, unplumbed netherworld. This is the world of pimps and smugglers, of crooks and petty politicians, of opium dens, brothels and beleaguered urban tenements. In his poetic world, you see a Mumbai without her make-up, her Botox, her power yoga; the Mumbai that seethes, unruly, menacing, yet vitally alive, beneath the glitzy mall and multiplex, the high-rise and flyover. The Mumbai of the non-gentrifiable, the untamable, the non-recyclable."
The establishment's assessment of Dhasal's political, as opposed to his artistic achievements, has differed drastically, but for him, they were always inextricably linked. In a television interview to this reporter in 2004, he had said, "If the aim of social struggles was removing unhappiness, then poetry was necessary because it expressed that unhappiness vividly and powerfully," and added, "After all, poetry is politics." He would have little patience with those who showed signs of discomfort with his sensibility. "My works speak in the language of those robbed of their human dignity a thousand times daily till they are reduced to a sub-human existence."
The man who founded the militant Dalit Panther movement in 1972, which started as a reaction to the casteist riots in Worli's BDD chawls in the late '60s, would often narrate painfully his experience of being discriminated by the Brahmins, who held sway over Marathi literature. "As a youngster hugely taken in by noted lyricist-poet GD Madgulkar, I excitedly went to Bharatmata theatre with my poetry notebook to ask him his opinion at a programme. After praising my work as good, all he could think of asking me was my caste. I'm glad it cured me of my brief experiment with heavily Sanskritised romantic escapist poetry," he'd laugh.
A decade later, cracks appeared in the Panther movement as ideological disputes worsened. While Dhasal wanted to engender a mass movement and widen the term Dalit to include all oppressed, a majority of his comrades insisted on maintaining the exclusivity of their identity.
His failing health and alcohol addiction led to serious setbacks, remembers Nashik resident-activist Nitin Gaikwad, a close confidante. "Dada's (Dhasal's) writing waned and post-1990s his politics made many in the Dalit movement wary. But the loss of this ideologue came as a body blow to the severely fractured movement, with leaders becoming busy fighting each other," says Gaikwad, who rushed to Mumbai from Nashik on hearing of Dhasal's demise. "I was estranged from him for the last few years, but when I heard of his death I had to come."
According to him, "The way he joined the Rashtriya Swayamsevak Sangh's call for 'Hindu brotherhood' in 2006 and his closeness to the Sena, for whose mouthpiece he wrote regularly, left many guessing," he observes.
Apart from his political and literary contribution, this Sahitya Akademi award winner's passion for food was legendary. "He'd take great delight in cooking mutton and offal and discuss secret recipes with as much passion as social causes he was invested in," smiles Gaikwad, who remembers the ideologue's idea of starting a restaurant serving his-kind-of-food in tony Andheri West.
No man loved Mumbai more. And no one knew it better.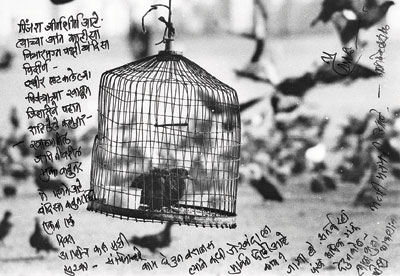 A cage not so sturdy
A bird within lost in thought, without hope
A pigeon from a flock looking up the cage,
hung tight
"We shall free you one day.
Blame not your fate.
Has it ever freed any enslaved?
Be prepared, let not
your wings gather rust any more
for they have to soar high in the sky tomorrow."