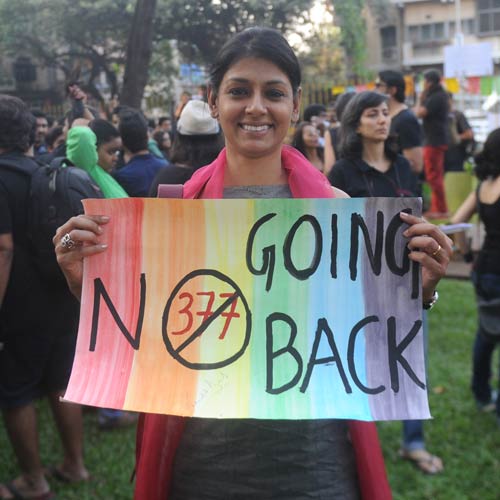 Mumbai turned out in thousands at the Maheshwari Garden (MG) in Matunga on Sunday to mark the 'Global Day of Rage' joining people from 18 cities, including Delhi, New York, Boston, London, Sydney and Toronto to protest the recent Supreme Court ruling on homosexuality.
While the anger and emotion was palpable, the mood was carnivalesque with banners, costumes, painted faces, songs and sloganeering. "That's the beauty. Though bloodied, the community refuses to put its head down in defeat," said writer-poet Jerry Pinto, who was present with a black band around his arm.
Gay rights pioneer Ashok Row Kavi agreed with Pinto. "We are gay. Even if some people around try their damndest to put us down we are not going to wail and wallow. This is the way we know, to resist and fight and our struggle will go on."
Amazed at the sheer number of people who had gathered at the spot long before the actual protest began despite the short notice he was emotional about the venue, day and time. "Back in the late 80s and 90s, long before the internet there were some public places which the community took over and MG was the first. I remember coming here with volunteers from the Humsafar Trust to distribute condoms and safe sex literature to those coming here to cruise on Sunday evenings. No one would have imagined that so many people would turn up, said Ashok Row Kavi"
Asked to react to BJP president Rajnath's Singh opposition to homsexuality, which he had called "unnatural" transgender rights activist Laxmi Tripathi said, "Singh needs to re-read our history and mythology to find out that homosexuality is respected as an integral part of our culture and society.
Such homophobia, does not behove the leader of a party which positions itself as opposed to the West and standing up for Indian traditions."
Pointing out how the crowds gathered were not only from the LGBT community, actor Nandita Das insisted the struggle is not only about them. "This is about human rights as much as a struggle by displaced people, tribals, Dalits or minorities. When we stand up with the LGBT community, we should forget that we are standing up in our own interests. Once you open the gates to looking the other way, where will you stop and how much will you condone?"
Several media studies students from Tata Institute of Social Sciences were also present. TISS professor and dean, School of Media and Cultural Studies, Dr Anjali Monteiro said, "This represents more than a show of strength. One hopes the authorities wake up to the injustice of criminalising consensual homosexuality and amend the law."