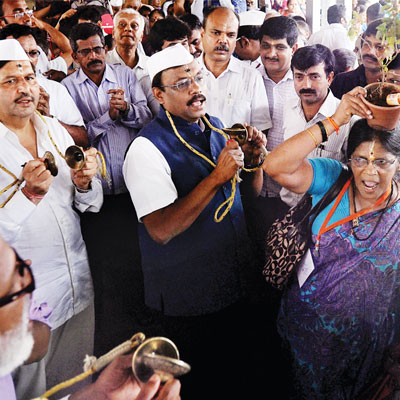 Chintamani Bacche, a Bhayander resident, is very particular about not eating late on the day before Ashadi Ekadashi (Tuesday this time) in order to make sure that he remains on empty stomach on Ashadi Ekadashi day (Wednesday).
A number of people, particularly those belonging to Warkari sect, observe Ashadi Ekadashi that marks the beginning of Pandharpur Yatra.
It's the pilgrims to Vithoba Temple in Pandharpur (Solapur) who undertake the yatra. Vithoba or Lord Vitthal is considered to be the local avatar of the Hindu mythological God Vishnu.
The fast is observed mainly for Lord Vishnu, the preserver in Hindu mythology, though different stories are attributed to it. The most common one is that Vishnu falls asleep on this day while lying on the cosmic serpent. He wakes up only after four months. The fast is to make sure that he's pleased with the devotees when he wakes up. Some devotees observe fast the whole of Tuesday (the day before).
A number of people leave for Pandharpur on the night before (Tuesday night) so that on Ashadi Ekadashi they are at the temple. "We go to Pandharpur on this day so that we can participate in the yatra. It's a tradition—one person from a family goes every year," said Radhunath Mhedge, a third generation devotee of Vithoba, who goes on the Yatra every year.
"During the two days we are in Pandharpur, our businesses in the city remain shut. We break our fast only after we have served other Warkaris," added Mhedge, who leads the Dabbawala Association which keep its services shut during the two-day period.
In the city, those who cannot go for the yatra make sure they visit a temple of Lord Vithal.
"Our temple, in fact, opens an hour earlier. Various bhajan mandalis come and the atmosphere is electrifying," said a volunteer at Sri Vitthal Rakhumai Mandir in Dahisar.
The Yeshwantrao Chavan Centre will organise a progamme of Marathi 'abhangs' by Maharashtra Abhang Ratna K Ganeshkumar at YB Chavan Hall, near Mantralaya, at 6.30pm.