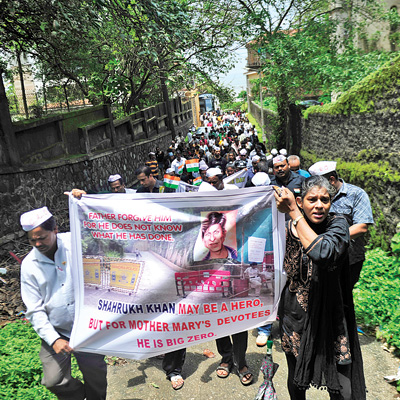 About 300 people on Friday morning marched silently holding candles from Mount Mary Steps to Mount Mary Church in Bandra to protest against a ramp built by actor Shah Rukh Khan, adjoining his Bandstand bungalow Mannat. The ramp encroaches upon a cement road beside his bungalow that leads to the church.
The protest was attended by members of the Watchdog Foundation, an NGO, which has been fighting for the past few years to ensure the traditional Bandra fair continues. It was also attended by members of the Marol Citizens Forum, Sahar Citizens Forum, St John Baptist Church Save Committee, along with several other organisations.
"Last year, the actor barricaded the cement road. The police had cited security reasons," Godfrey Pimenta of Watchdog Foundation, said. "This prevented the devotees from using the traditional cement road... After several protests, the barricades were removed."
"Last year, on September 16, we wrote to the executive engineer, building proposal department, western suburbs, to initiate necessary proceedings against the illegal construction. But the H (West) Ward is still to take action," Pimenta said. "Why have double standards for illegal constructions... one for Campa Cola and another for an actor?"
Pimenta said the ramp could lead to accidents at night.
Assistant commissioner of H (west) ward Prashant Sapkale said: "We will look into the matter... necessary action will be initiated, if needed."
dna tried contacting Mandvi Sharma, the actor's publicist, but her phone was not reachable. Messages went unanswered.