Parents tell police they suspect bruises were inflicted by a grown-up, school says they were the result of a fight among students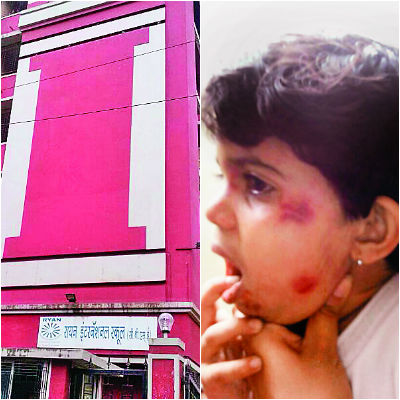 The parents of a 3-year-old Montessori student of Ryan International School in Sanpada have approached the police claiming that their daughter was assaulted after they found bruises on her face and back when they went to pick her up on Monday. While they suspect that the injuries were inflicted by a grown-up, the school has refuted the allegations saying that her injuries were the result of a fall and a 'small fight' with her classmates.
The allegation is being investigated by the Turbhe police, who have recorded statements of the parents and school authorities.
At around 3 pm on Monday, Iyushi Patil's family was informed by the school that she had gotten hurt. Iyushi's mother, who works at a bank in Juinagar, reached the school immediately. She found bruises on Iyushi's face and back. When she asked the school authorities what had happened, they allegedly did not give her a clear answer.
On Tuesday, Iyushi's family approached the Turbhe police, under whose jurisdiction the school falls. The police recorded statements of teachers, students and parents. "It's a case of a small fight among students. A student has scratched Iyushi's face with her nails," said a police officer from Turbhe police station.
Pravin Patil, Iyushi's father, however said there is more to the case than meets the eye. "The school authorities seemed to be hiding something as they were not giving a firm answer. A child cannot receive such grave injuries in a scuffle among children," he said.
"The child said that a dada, indicating an older person, beat her. She is too small and too traumatised to narrate the incident clearly," said Ravi Sawant, a social worker.
The incident created an uproar as locals staged a protest outside the school and demanded that the school authorities provide a cleared picture of what happened. "These schools charge hefty amounts to provide the children quality education and safety. Unfortunately, they are not even aware of what exactly happened," said Sawant, who staged the protest, adding that the school should have installed CCTV cameras inside the school.
Mary Philip Sebastian, the school's principal, said, "The child fell in the class room while playing with other children. Later, the kids had a fight, following which she received the injuries."