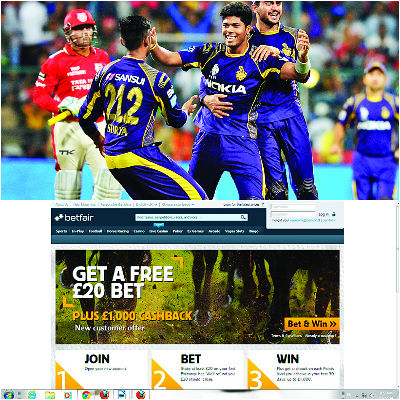 Three persons allegedly involved in betting syndicate have been arrested by the property cell of the city crime branch on Monday. The trio were accepting bets on the final match between Kings XI Punjab and Kolkata Knight Riders in the IPL-7 on Sunday.
The trio have been identified as Vishal Upadhyay, 26, Abhishek Singh, 28, and Yaseen Sheikh, 28. They have been remanded in police custody till June 6.
According to police sources, specific information was received that Upadhyay with his associates were betting on the final match through websites www.betfair.com, www.vbet24.com, and www.khelmasti.com. The group had also installed a software known as khel-khel-khel, which they were using for online betting.
On the basis of this information, a team of officers Nandkumar Gopale, Nitin Patil and Laxmikant Salunkhe, had raided a seventh floor flat in a building situated near Hindustan Naka in Kandivli (W). The police have seized 13 mobile phones, four SIM cards, a laptop, a television set, a set top box and cash Rs85,430 from the flat.
"We have asked for details of 16 mobile numbers from the service providers. We have seized an account book from the trio in which there are code names of punters and figures are scribbled. It has also been learnt that SIM cards have been taken using bogus documents by the group," said a crime branch officer.
They have been booked under various sections of IPC, Prevention of Gambling Act and Indian Telegraph Act.