Within the next two years Amul will expand to two more major states – Uttar Pradesh (UP) and Punjab.
That will further enlarge the market footprint of Amul and Sagar brands, both of which are owned by 3.3 million milk producers of Gujarat.
With a one-man-one-vote (irrespective of the number of cattle owned), these farmer-milk-producers form village cooperatives. Here too, the same principle of one-vote-per-village cooperative is followed to form district milk cooperative unions. Currently, Gujarat has 17 such milk producing unions, which together form the state federation.
At the state federation level, each union enjoys votes that are proportional to the volume of milk produced by them, thus giving the Gujarat Cooperative Milk Marketing Federation (GCMMF) the benefit of vision that large producers must have to shape the destiny of the industry itself. GCMMF, in turn, owns the Amul (and Sagar) brand, which has by now become the most valuable agricultural product brand in Asia.
All commercial decisions are invariably unanimous in nature, giving the unions no cause to flex their volume-based-voting-rights. All of them remain committed to just one mission – to empower the smallest of milk producers. It goes back to Verghese Kurien's faith in "production by the masses, not mass production".
Two years ago, GCMMF oversaw milk processing of 160 lakh litres per day (LLPD). Today, this capacity has been enhanced to 232 LLPD. Delhi alone has witnessed increased collection of 23 LLPD (see chart).
Within another 2-3 years, this capacity will stand enhanced by another 60 LLPD, bringing the total to 290 LLPD. The capital expenditure is likely to be around Rs 4,000 crore, much of which will be met through borrowings.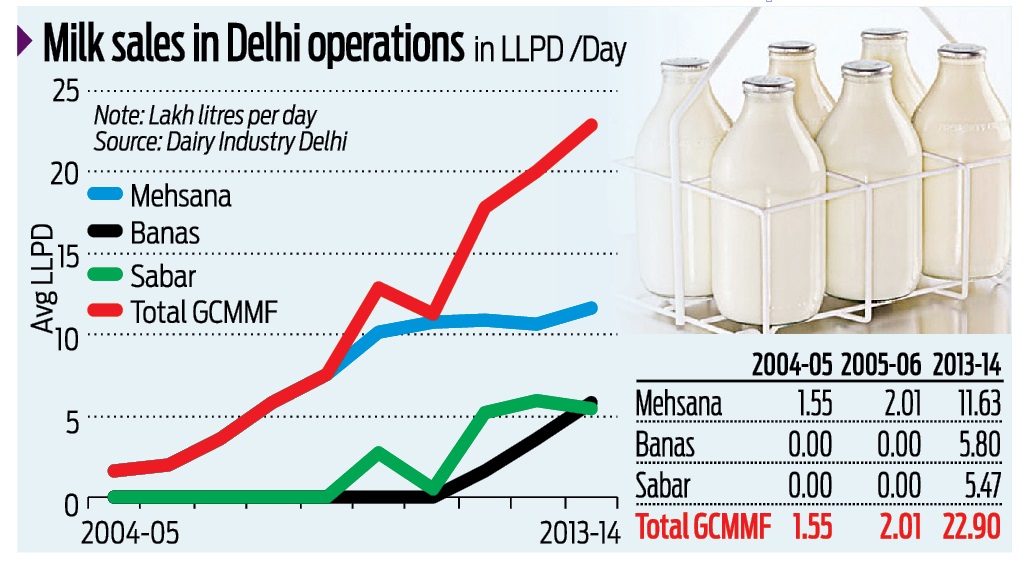 The new projects will be at Rohtak, Faridabad, Kanpur, Lucknow and Kolkata. And, just a day after Narendra Modi won national elections with a clear majority, GCMMF announced it would be expanding to Varanasi as well (though permission for the same was taken from the state government led by Akhilesh Yadav).
As Parthi Bhatol, chairman of the Baroda District Cooperative Milk Producers Union Ltd (BDCMPUL), stated at a media conference in Anand, "We have taken 30 acres of land from the government in Varanasi which is near to the airport and is at a good location. We will be building a plant that can process five lakh litre of milk that will require the investment of Rs 200 crore. Even today, we are selling about one lakh litre of milk in Varanasi and Allahabad."
The aggressive push by GCMMF into north India could well change the very lives of small and marginal milk producers there – especially in UP. This is because small farmers have usually been savagely exploited in most northern states. They have no protection of price or guaranteed off-take. Politicians and traders have colluded to cripple the cooperative movement which would have provided the security of stable milk prices to producers. Many northern states don't even offer any minimum support price guarantee that many southern states offer.
In north India, thus, much of the milk is collected by private traders. Even Mother Dairy (which once used to be a division of NDDB) has gone on record stating that it procures its milk from private traders. Not surprisingly, the cooperative movement has languished in north India.
For this region, therefore, milk remains a mere commodity. When market prices are up, traders grudgingly agree to pay higher prices to milk-farmer-producers. When the market witnesses oversupply – as in March 2012 – farmers are paid a pittance. People recall how milk producers took to the streets in March 2012, and poured on the roads all the milk they had collected for the day. Clearly, small farmers are grievously hit.
The expansion of Amul's cooperatives to north India could change all that. could revive the cooperative movement there, as GCMMF is mandated to purchase milk only from cooperatives.
This was not possible earlier, because rapacious traders were often in cahoots with local politicians. But with Modi winning from Varanasi, and his keen awareness that the largest number of votes will come from marginal farmers, expect tremendous political backing for the cooperative movement in north India this time. Modi knows that most of his votes, even in Gujarat, came from rural dwellers who were empowered with water, stable power supply and market access. He will ensure that north India's small farmers get similarly empowered with fair milk prices. These dairies will create new jobs as well.
There is a gentle irony in all this. Legend has it that the Hindu God Krishna led his cowherds away from Mathura and Brindavan (UP) to Dwarka (Gujarat). This time it will be a Gujarat experiment which will change the fortunes of milk producers in UP.