Three things make Gujarat Cooperative Milk Marketing Federation (GCMMF) a very impressive company.
First, it promotes the Amul brand of milk and milk products. Amul is easily the most valuable food products brand in India.
Second because GCMMF has made Amul Asia's largest milk brand. GCMMF accounts for an annual turnover of Rs 18,143 crore (2013-14) and is thus a $3 billion organisation. The Amul brand, which is also licensed to some member cooperatives – subject to quality and pricing controls laid down by GCMMF – accounts for a larger turnover of Rs 25,500 crore ($4.25 billion).
But it is the third reason why GCMMF has actually changed the way farmer-producers are encouraged, and common consumers' interests are also protected. Unlike any other company which seeks to purchase cheap and sell the finished product at a high price, GCMMF does quite the opposite.
GCMMF seeks to pay the highest price possible to all milk producers who belong to a milk cooperative. Almost 80% of the money it gets for the milk it sells goes back to the farmer-producers. At the same time, conscious of the need to remain relevant to consumers, it tries to offer its products to the markets at the lowest price possible. Thus, GCMMF manages to meet its processing, marketing and distribution costs within the remaining 20% of revenues garnered.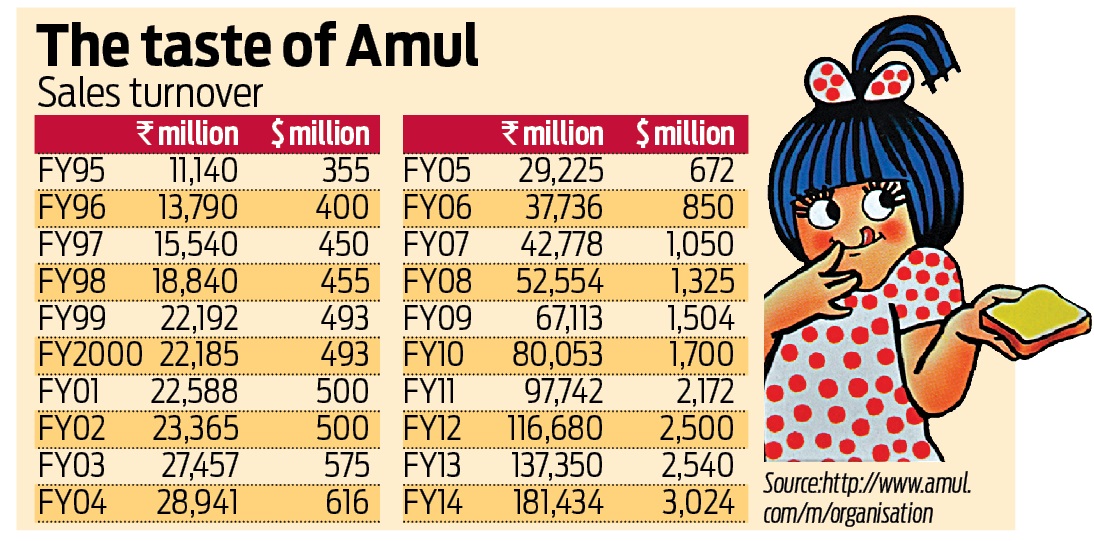 To reconcile these seemingly contradictory objectives has compelled GCMMF to continually hone operational efficiencies, and create new markets. As a result, GCMMF has become the biggest wealth generator for rural India especially in the states where it has managed to promote cooperatives.
GCMMF, it may be recalled, was born out of the vision of the founders of the cooperative movement in India – Verghese Kurien and Seth Tribhovandas Patel. Both realised that unless the small producer was protected, and his business interests nurtured, domestic production would falter, and the trader instead would benefit. They had seen how traders squeezed producers to supply milk to them at the lowest price possible, and yet managed to ensure that the customer was persuaded to part with the maximum money.
Kurien also realised that India was destined to become the world's largest producer of milk – provided multinationals and other large players were kept away, so that their predatory pricing policies would not hurt the local producer . To protect the producer, Kurien opted for the cooperative model. Today, unlike most private players, GCMMF does two things that few private players can do: GCMMF maintains prices for farmer-producers both when the markets are starved of adequate supplies of milk, as well as when the markets are flush with milk. "The farmer who is part of the Amul cooperative movement is not allowed to witness a fall in milk prices – even when there is a glut in the market," says R S Sodhi, managing director, GCMMF. That is why, GCMMF makes it a point only to purchase milk only from members of a cooperative registered with it. GCMMF refuses to buy milk from a non-cooperative or a private individual, and also refuses to sell milk for resale to a private party.
Obviously, this means that as producers enhance their production of milk, GCMMF has to discover new ways to sell the additional produce in the markets without incurring a loss. To do that, it has to first extend the shelf life of the milk either by converting it into milk powder – so that it can be used to make milk during lean periods of the year – or to make other milk products from yoghurt to ice-cream to cheese and other delicacies, and then devise a marketing strategy which will make consumers pick them up.
But the increasing relevance of the Amul model will soon become evident, as it embarks of an expansion programme that could have far reaching repercussions for North India. But more on that next week.