Rama Sreekant finds out why the ethnic neighbourhood of Little India in Singapore is a home away from home.
My connection with Singapore goes back several decades—my grandmother was born and raised here. I often recall her stories of the Singapore then, how her father had to pay a $5 SGD fine when her toddler brother unknowingly threw a banana peel outside the window, how the Oxford dictionary should include Singapore as a synonym for 'cleanliness', and how she finally moved to India during World War II.
A brush with history
It was the fifth day of my maiden trip to Singapore and every other Indian seemed to be a Tamilian. A quick google search shows that ethnic Tamils and nominal Hindus form a significant majority of Singapore's population. Is it any surprise then that the metro station names are written in both English and Tamil script.
So here I was in Little India's main drag, Serangoon Road. As I walked up the stairs from the metro station, I found myself standing amidst honking cars, watching people jay-walk, taking in the aroma of spices and listening to the vibrant chatter of passers by.
Charms of Little India
As I walked past the lanes and bylanes, the sights and sounds transported me to Matunga in Mumbai. My first stop was at a flower stall that sold mallipoo (jasmine) garlands; I asked the vendor in Tamil, "Onga per enna? Neengal poo engende kondu varel? (What is your name? Where do you get the flowers from?) She flashed a smile and said, "Yen peru Shanthi. Ella poo Madurai lendu varadu. (My name is Shanthi. All the flowers are imported from Madurai.)" Shanthi gets orders for various religious and festive occasions, including weddings. "We even get orders from Indians in Malaysia," she adds. Her flower business hit an all-time low in December and January during the riots. Business has been slow since then," she says insisting I buy some mallipoo. Tradition runs strong in Little India. Walking ahead, I heard a popular Illayaraja music composition blaring from one of the stores, Sri Sai Mookam. The store seemed untouched by time—traditional toiletries, spices, herbal remedies, and even altars and figurines of Hindu deities—it had it all.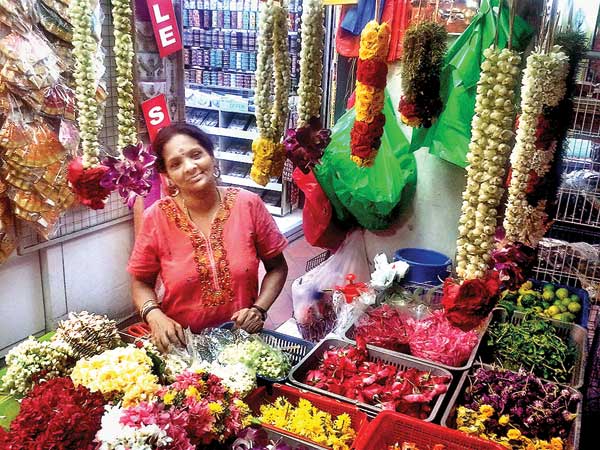 Dosa Delights
When you are in this cultural enclave, you sure can't pass up the opportunity to indulge in home-food in some of the oldest restaurants—Komala Villas, Ananda Bhavan, Murugan Idli Shop. Founded by Rajoo, a migrant Tamilian, in 1947, Komala Vilas is a no-frills place with no-fancy menu and no-fancy waiters. As we walked in, we were seated at the same table as a Chinese couple. We ordered an idli vada sambhar, rava masala dosa, a plain dosa and filter kaapi. Simply lip-smacking! All this for a mere $12 SGD.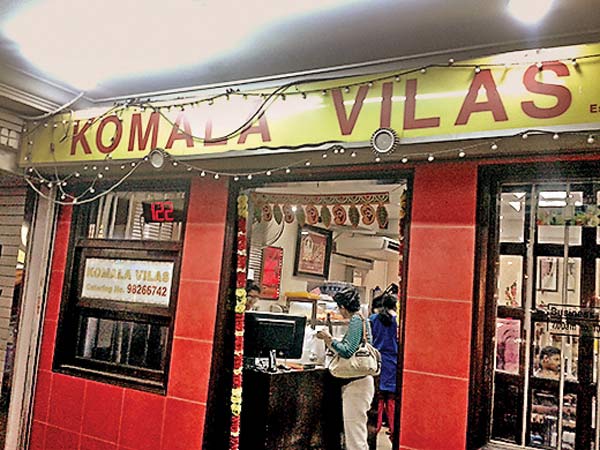 Threads of time
Weaving through threads of Kancheepuram's history is the Nalli Chinnasamy Chetti Pte Ltd store in this suburb. Enter the store and the first thing you notice is a framed photo of Superstar Rajanikant inaugurating the store. "We stock all the latest collections available in India. Our sales are very good during Diwali and the wedding season," says Selva, the store manager.
Walking out of the store and heading towards the metro, I realised I had just courted an authentic Indian experience in Singapore.