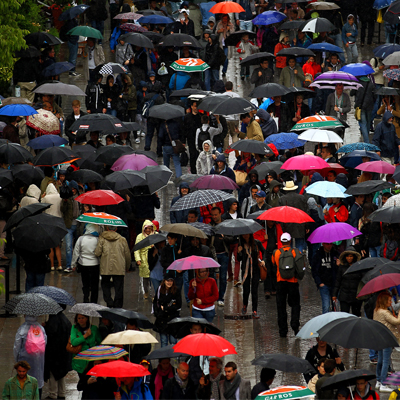 June, the month which marks the beginning of the monsoon season is here!
After the fiery heat of the summer, the weather is now pleasant. It may have its charms - the cool weather, the reason to wear jackets, gum boots, enjoy a bowl of hot soup or coffee, but it is also the season when infections and disease are at its peak. Fortunately with the help of these simple tips and precautions it will be easier to cherish and enjoy this season.
Top 5 food to eat this monsoon
1) Cutting chai: After soaking wet in the rain after a walk or a bike ride stop at the tea stall on road side for a kadak cutting chai.
2) Pakodas: What else matches best along with cutting chai than hot pakodas? Be it chilli, onion, potatoes or paneer.
3) Corn: The 'butta' stalls at the beach or the corner of the streets taste best when its pouring out.
4) Wada pav: If not pakodas we definitely indulge in spicy wada pavs or samosas.
5) Chaat: The spicy and khata chaat tickles our taste buds especially in this season.
Top 5 health precautions
1) Eye care during monsoon is a must. Eye styes, dry eyes, conjunctivitis and many other eye infections are on the rise during this season. Precautions like using sanitizers and washing hands before touching the eyes will keep you away from them.
2) Keeping away the mosquitoes during the monsoon is very important to keep malaria away. Water and stale food is a breeding place for mosquitoes. Keeping the place clean and covering the food can help prevent mosquitoes. Using mosquito repellent and nets are absotulety essential.
3) It is best to stay away from puddles as by stepping into them your feet gets soaked with dirty water that can cause infection.
4) Hydrating yourself: In monsoon due to the humidity sweat does not evaporate quickly and this prevents the body from releasing heat.
5) Eating clean fruits and vegetables: Due to the humidity and dirt it is very important to wash them nicely before eating or cutting them.
Top 5 precautions for your pets
1) Due to the humidity even our pets fall sick it is very important so sudden exposure to cold water or environment should be avoided.
2) Vulnerability to respiratory diseases due to high moisture content, lack of exposure towards sunlight etc increases. Pets suffer from respiratory tract infection. They should be kept in a clean and dry place and use of air conditioner should be avoided.
3) Fungal infection due to walks in the rain is very common for pets. Washing their feet after a walk and regular check up of their paws will keep fungal infection at bay.
4) Nutrition: The ready-to-feed food is more advisable during rainy season as it contains essential vitamins as compared to home fed food.
5) Due to the rains taking the dog for a walk becomes difficult so owners must make sure they receive enough physical activity to remain fit.
Top 5 items to pack
1) An umbrella or a rain coat is a must have!
2) Sanitizer and napkins help to keep you stay dry and prevent germs
3) Dark colored half-length pants: they prevent the soaking of pants from the bottom and don't get dirty from mud splashes.
4) A pair of footwear: Moist feet lead to fungal infection so it is always better to carry a pair of footwear and socks too.
5) Water-proof make up for girls is a must.
Top 5 places to visit
1) Marine Drive: Also referred to as the 'Queen's Necklace' because of the semi-circular sparkling lights, the three kilometer stretch in south Mumbai is the best place to go if you want to be sprayed by the waves during high tides.
2) Girgaum Chowpatty: Also called the Marine Drive Chowpatty, the beach that is famous for its snack stalls. The place really comes alive during the annual Ganesh Chaturthi festival, when some of the Mumbai's biggest idols are immersed in the water.
3) Worli Seaface: If not south Mumbai then central Mumbai is the next best place to go. Known for its high tides during monsoon, it is a nice place to go for a walk or sit on the promenade there.
4) Bandra Bandstand: Arabian sea on one side and homes of famous celebs on the other is the dream place for many Mumbaikars in the monsoon.
5) Juhu Beach: Visit the snack stalls at Juhu beach and indulge in fresh pav bhaji prepared right in front of you.