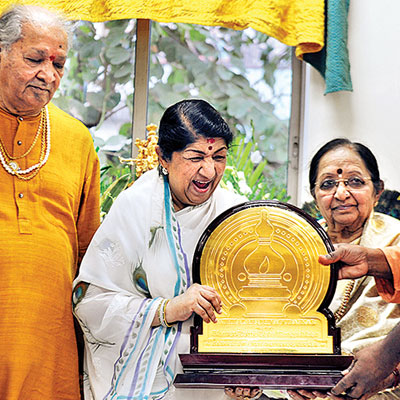 "Pt Hariprasad Chaurasia is our very own Lord Krishna of the music world," said Bharatratna nightingale Lata Mangeshkar, who was conferred Satkalaratna Puraskar by Sathkalapeetham Payyanur, Kerala at Pt Hariprasad Chaurasia's Versova music school – Vrindavan Gurukul.
"Chaurasia is a younger brother with whom I've had a long association. I've not only sung under his baton for films but he has also played in my albums like Meera and Bhagavad Gita," she said.
Earlier in her address after accepting the award, which was given to the accompaniment of her Malayalam song Kadali Chenkadali, she said, "I am very honoured that you have chosen me for this award. I've heard of the good work being done by Sathkalapeetham and assure you that I will visit you soon to see this with my own eyes."
Flute maestro Pandit Hariprasad Chaurasia told dna this was his best Valentine's Day ever. "Who wouldn't be overwhelmed with an elder sister's kind words of encouragement like this?" he asked. He compared Mangeshkar to Goddess Saraswati and said, "I am delighted she set foot in this ashram and blessed it."
Sathkalapeetham head Swamy Krishnanda Bharati, said, "It is an honour to come to Mumbai to bestow the award on a singer of Mangeshkar's repute."
Others present on the occasion included Rajya Sabha MP and Islamic orator Abdu Samad Samdani and music guru Dr Shyamla Bhave.