Jewellery designer Alpana Gujral takes you on a breathtaking journey with her latest collection — Nirvana.
Jewellery designer Alpana Gujral takes you on a breathtaking journey with her latest collection — Nirvana.
You are all set to unveil your new fangled Nirvana collection in Bangalore. Tell us a little bit about Nirvana and the inspiration behind it.
Nirvana per se means peace and comfort and I have tried to instil these in my jewellery designs. The intent is to make the woman wearing the jewellery feel at peace and also make her feel comfortable.
The woman can make her style statement by wearing something unique, spectacular and which completely defines her personality, without following what's currently in vogue or what her neighbours are wearing.

What shades and hues have you used for your Nirvana collecti
on?
Having been inspired by the lotus —both white and pink — I have given the jewellery collection the essence of the lotus flower and its graceful serenity to attain artistic enlightenment.
By unfolding the splendour of sparkling gemstones embedded in a treasure of gold, Nirvana blossoms blissfully with unique pieces that encompass purity and substance while coming together to form an opulent masterpiece.
These are basically ravishing rose-hued jewels which will compliment any woman wearing them.

How do you connect Nirvana with the lotus flower?
Lotus blooms in the early hours of morning when all's peaceful and quiet. It's the time to think and contemplate about oneself. The theme, Nirvana also has a similar interpretation, alongside many others. The jewellery in this collection comprises white and pink shades, which are extremely ravishing yet elegant.
But do these white and pink shades comple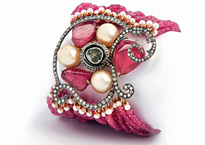 ment a working woman's attire, considering that formal wear isn't that colourful?
Colours like pink and white complement every outfit, irrespective of whether the woman is wearing business wear, an evening gown, or a party dress. These colours are so universal that it goes with any outfit.

As a jewellery designer in an era where there is fierce competition and where people's likes and dislikes change in a jiffy, what challenges are you facing?
Challenges are aplenty. Every step is a challenge. To get the creation out is a challenge. I am my biggest competitor because I constantly tell myself that I need to do better.

Have you noticed any interesting trends in jewellery buying patterns in the last three years?
Today, people are open to new designs and patterns. They are willing to experiment. Earlier, women merely considered jewellery to be an investment. They bought jewellery only during certain special occasions.
However, today, the scenario has changed. People have started buying jewellery on a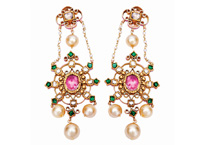 regular basis and also lay more emphasis on designs. Moreover, people do not follow 'fashion' blindly. They take time to choose what jewellery piece complements them and then go ahead with the purchase.

What kind of jewellery designs do you focus on?
My focus is on premium fine jewellery that never goes out of style. I don't do much of bridal collection. I, instead, focus on cocktail jewellery, office wear, evening wear and even shopping wear.