Rohit Shekhar Singh has acquired a dad. His name is ND Tiwari. It is the result of a long and arduous court battle. Now that the son has a legal biological father, how does that translate into the everyday motions of a father-son relationship? Manisha Pande finds out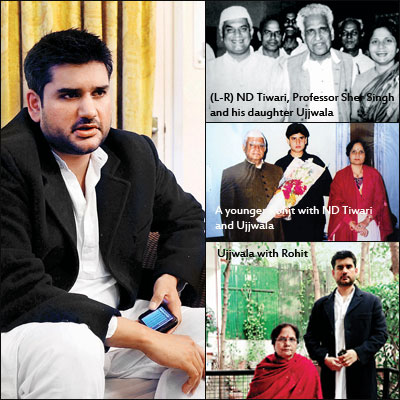 There's a silver lining to India's tardy justice system. While delays sap the life and money out of the aggrieved, sometimes they can tire people into admission.
Frustrated with the long-drawn court battle that ensued after Rohit Shekhar Singh filed India's first paternity suit against ND Tiwari, the veteran Congress leader seems to have caved in. Earlier this week, he finally accepted Rohit as his biological son over a well-publicised press conference, putting the matter to rest with a hug and a lot of tears.
Rohit has now got himself a daddy. But he still refers to him as Mr Tiwari. "It will take some time for the whole thing to sink in. I met him for the first time after nine years," he says. Sitting in his house in Defence Colony, a tony south-Delhi locality, the 35-year-old appears nervous and surprised with Tiwari's belated admission. "I was waiting for this day but didn't really think it would ever arrive."
It will, no doubt, be tough for Rohit to adapt to a father he has suddenly acquired; a father he fought for in a bitter seven-year-long legal case, which involved compelling a reluctant Tiwari to provide a blood sample for a DNA test. Having words like 'bastard' and 'illegitimate' thrown at you over daily court proceedings can be scarring. But what will be more difficult for Rohit to forget will be the memories of his father's remarkably schizophrenic attitude towards him. "In private, he would often tell me how I look like him and how I talk like him. But in public, I would cease to exist for him," he says.
It was after one such public rejection on the evening of October 18, 2005, that Rohit resolved to teach his flip-flopping father a lesson. It was Tiwari's 80th birthday. Rohit, then 27, had gone along with his mother, Dr Ujjwala Sharma, to wish him in Dehradun. Tiwari, who was at the time serving as the chief minister of Uttarakhand, conveyed to Rohit and his mother that he could meet them behind closed doors should they wish to celebrate his birthday, but not before the massive crowd gathered to celebrate at the CM residence. "That really hurt Rohit and he broke down. He told me that his father would never accept him in public," says Ujjwala, a professor of Sanskrit.
Tiwari decided to snap all ties with the family after that day. Until then, he had made regular appearances in his son's life, though never in public. He made it a point to attend all of Rohit's birthdays, lavishing him with gifts. "I wondered who this man was and why my mother would take me to meet him so often," says Rohit. Back in 1993, after Tiwari's wife passed away, he had come close to adopting Rohit but backed out of the decision.
Rohit found it hard to reconcile with the hypocrisy of a man who'd wax eloquent on social justice and welfare in public life and showed such scant regard for his own son. He suffered from a severe case of insomnia accompanied with major bouts of depression and anxiety. In a last-ditch effort in December 2005, he reached out again to his father. Tiwari yet again refused to acknowledge him. "Going to court was the last option. I filed the case in 2007, soon after which I suffered a heart attack and a cerebral stroke," he says.
Doctors diagnosed stress as the cause for the brain stroke that left him partially paralysed for over a year. He remained determined to go to court but had to file a petition again in 2008. In the midst of the stroke and his deteriorating health, Rohit had forgotten the minor technicality of giving a two-month notice to a serving government functionary before filing a case — Tiwari was then Governor of Andhra Pradesh. After almost two years of moving the courts, the Delhi high court finally called on Tiwari to file his written statement.
What followed next was a very public and acrimonious legal tangle between the two parties; prime-time fodder for the media. Rohit says he would now like to put aside those years of bad blood between him and his father. "I saw him for the first time in years last week. He looked frail and genuinely remorseful of his actions. I respect his decision," he says.
Despite the anger he harboured for his father, Rohit says he prayed for his health and long life even when the case was on. "All I wanted was for him to accept me as his son and let me live my life with dignity."
There are many children like me out there. I hope my case gives them the courage to fight for their rights," he says, adding that he will not seek maintenance from Tiwari but expects to be duly compensated for the litigation cost.
Now 89, the Congress leader has asked Rohit to come and live with him at his residence in Lucknow. "I would like to make up for the lost time." he says. Though he does not want to change his surname — Rohit uses his maternal grandfather's surname — he wishes his parents would reunite. "Who wouldn't want to see their family together?"
Ujjwala, now 69, is not averse to the idea. She candidly accepts that she still has a soft corner for the man who didn't own up to being the father of her child. The daughter of an eminent statesman, Professor Sher Singh, who was one of the founding fathers of the state of Haryana, Ujjwala met Tiwari sometime in the late '60s when her father was serving as education minister in Indira Gandhi's cabinet. Tiwari was then a rising star of UP politics and treated Professor Singh as his mentor. Ujjwala had separated from her husband and come to live in her father's house in Lutyens' Delhi. "I got married at 18," she says, adding that she never got along with her husband from the start. At the insistence of her parents, Ujjwala stuck around hoping that a child would make things better. But things did not improve even after the birth of her first son. "Things got worse and I moved out with my son to my father's home," she says.
She met Tiwari at a particularly difficult time in her life and soon found herself at the receiving end of his affection. For about a decade or so, Tiwari pursued Ujjwala as an ardent admirer but she kept him at arm's length even as she liked the attention. Tiwari, too, was a busy party worker. "It was only after the Emergency when Congress was routed out of UP that he had all the time to pursue me with renewed vigour," she says. "He started frequenting our house again in '77."
Tiwari eventually won her over with his persuasion. Ironically, in a bid to get to Ujjwala, he showered special attention on her first son. "I thought back then that I was being a fool ignoring a man who cared so much about me and my son," she says. The friendship soon culminated into an intimate relationship and Rohit was born in 1979.
Ujjwala's parents knew of her relationship. "I was convinced that he would marry me and adopt my son but something changed by the late '80s when he became the CM again," she says, adding that Tiwari welcomed the birth of his only son — he had no children with his wife — and was a doting father till Rohit was five. "Then, perhaps for political reasons, he became distant," she says.
Ujjwala had reconciled with the fact that he may never marry her but wanted him to adopt Rohit as his son. She remembers the time when, as a passionate suitor, Tiwari sent her a note that read: "I love you intensely". "How could I have not trusted him? I still feel an attachment to him," she says. She is happy now that he has accepted Rohit as his son and glad the agony is over for him.
Rohit says he may soon leave to spend some time with his father. Asked if he'd like to follow his father's footsteps and join politics, he says he hasn't thought about it. "If he wants me to be his political heir, I will abide by his wishes," he says.
Rohit's biggest strengths all these years have been his mother and Indian classical music. A student at the Gandharava Vishwa Vidyalaya, he hopes to get back to a life of peace with music and a reunited family.