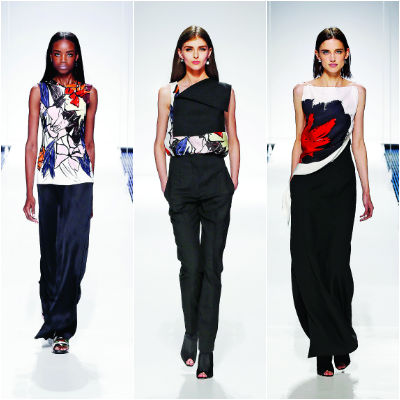 Inspiration: "America is a constant inspiration for me," says Raf Simons. "The pop culture, the energy, the fluidity… there is just something so alive here. What I always like in America is that there is such a melting pot of styles. But there is always a look – a strong look. Whether it is uptown or downtown, East or West coast, there is always a strength and reality to how women dress here."
Highlights: The collection's leitmotif was the silk scarf, or the French carré which was morphed into 'the flag' of the collection; its pop iconography playfully explored, its conservative, lady-like connotations exploded, its sinuous, free-spirited sensibility embraced.
Traditional, firm couture constructions, based on those of the stock mannequin, were combined and contrasted with the silks in the collection, the rigidity of the bodices often at play with the fluidity of sleeves and skirts. Traditional Dior pleats and godets were relaxed and made flowing, their sinuous construction and bias cutting a further study of hard and soft, a theme that runs throughout the collection including the scarf wrapped shoes and jewellery.
Front row: Rihanna, Marion Cotillard, Maggie Gyllenhaal, Leelee Sobieski, Allison Williams, Margot Robbie, Sterling Ruby, Christian Louboutin and Proenza Schouler's Lazaro Hernandez and Jack McCollough.
The setting: The Brooklyn Navy Yard, by the banks of the East River, was the setting for the show. The mirror and LED interior of the venue, with the reflected animations of fluid, floating scarves, at once echoed the outside world and abstracts it, just as the collection does.