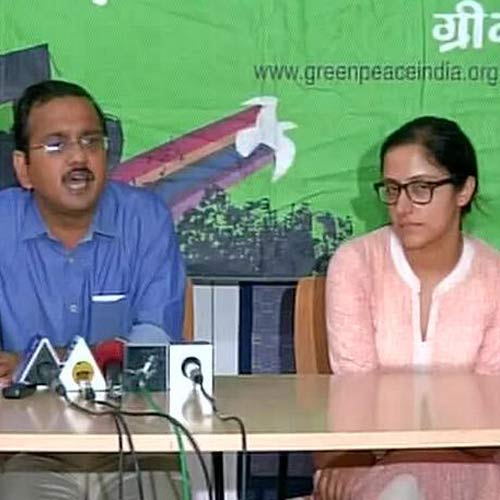 According to an Indian Express report, Intelligence Bureau (IB) has alleged that Greepeace India is a grave threat to Indian's economic security and is being funded by foreign organisations. Greenpeace India's campaign manager Vinuta Gopal answers questions on these accusations and on her suspicions about the timing of the IB report leak.
What is your reaction to the accusation by Intelligence Bureau (IB) that your organisation is a threat to the economic security of the country?
Vinuta Gopal: The allegations are rubbish. We have written to the Home Ministry saying that the reports should be made public.
In addition to that, all we are campaigning for is "Sabka saath, Sabka vikas." We are campaigning for development that is sustainable, that includes future generations and also includes growth.
For example, if we are actually raising issues that affect the Adivasis in Central India, how is that something that affects the economy of this country? Especially, if what the government stands for, is in fact inclusive sustainable growth. So,our question is to the government: What is "Sabka Saath, Sabka Vikas" if you are actually calling us 'anti-development'?
One of the biggest criticism of Greenpeace, since it was formed, is that it is a foreign NGO but you have clarified in the past that you might be a branch of the international NGO but your funds are raised domestically. Do you think that has been one of the reasons why you have been named in this report?

Vinuta Gopal: We think that there's something fishy about the timing of this leak. Like you said, it's not new. So, we believe that given that the Environment Ministry is actually announcing green clearances and we have been campaigning in Mahan to fight for the rights that have been given under Forest Rights Act for the community there. We wonder what has prompted this leak and we want all the information put out so that one can respond in full and not in parts to certain issues that are being raised.
In addition to that, yes, we are actually run by funds that we gather from individuals. We have more than 300,000 Indians who support our work, more than 60% of our funding comes from Indian sources. In the last financial year, we raised Rs 20 crores, so if we do the math, it comes to about Rs 7 crore that comes from foreign sources which is in fact a drop in the ocean compared to what corporate lobbyists are putting in to get their ways or what foreign countries are paying for their lobbyists to get their ways. So, it's laughable if one thinks that we are pushing a foreign agenda here.
If somebody is asking questions about the last remaining forests in the country, or if somebody is asking questions about Adivasi rights, I don't see how that is an agenda that's not important to India and certainly to this government.
Also read: 'Demand of 'sab ka saath sab ka vikas' does not stall economy says Greenpeace
A similar report appeared in the same newspaper a few days back that referred to NGOs protesting Palm oil imports from Indonesia. We know that Greenpeace has been at the forefront of the agitation against such imports as palm tree plantations are being created by destroying rain forests which are homes to Tigers and Orangutans. It is also alleged that one of the beneficiaries of these imports is actually a company which otherwise is seen to be very near to the present dispensation. Do you think this has any linkage with such a IB report and the new government
Vinuta Gopal: Like I am saying, we are certainly very curious about the reasons for this leak of the report and the timing. We believe that it is quite possible that corporate interests are concerned about issues we are raising. And the issues we are raising are certainly issues that are extremely important for the 99% of the country.
Maybe the interest of the one percent might be under the scanner because of the questions we ask — whether, it's on unjust practices in the forests of central India or like you say of importing un-sustainable Palm oil, or in fact, if it's about sustainable agriculture, then we could think that maybe they had something to say or something to do with the leak of this report. But the first step for the government is to put out this report in public.
What's the next step for Greenpeace India?
Vinuta Gopal: Well, I think nothing really changes for us. I mean the issues we are raising are issues that we are not raising alone, these are issues that concern a number of people in this country and it's not that Greenpeace India works only on raising these kinds of issues. We have also been actively working on solutions. So, we will continue to work both on raising issues of social justice and environment as well as pushing for sustainable solution, which push for what in our opinion is: Sabka Saat, Sabka Vikas. So, we will basically continue working on the campaigns that we work on.
In terms of the relationship between corporates and the stakeholders on the ground and the whole concept of development, where does Greenpeace stand?
Vinuta Gopal: We believe that development has to be for the people. You have to put people over profits. We cannot merely put profits over people all the time and when I say that, I mean that if for example, the Constitution of India gives the Adivasi rights to decide over the use of their forests, then that law has to be implemented in spirit on the ground. So for example in Nilgiri, if they actually choose where they want their forest, they have the right to make that choice.
Shouldn't they be allowed to exercise their rights on that forest? Those are the kinds of questions and those are the kinds of issues we will raise and at the same time we are actually working on solutions. For example we are working on a micro-grid for providing electricity to villages in Bihar. So, we are showing the way forward, both in terms of solution as well as asking questions on some things, we think are certainly problematic.
Also read: IB report to PMO designed to muzzle civil society voices against current model of growth in India: #Greenpeace