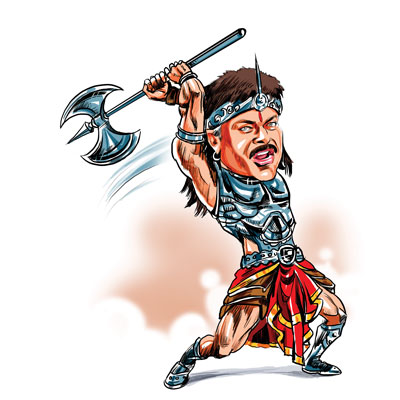 Actor-turned-politician K Chiranjeevi's 40 minutes speech delivered in gibberish English in parliament not only left the entire country giggling but also displayed the apathetic approach of the Congress high command had towards the anguish and sentiments of the Seemandhra region.
Chiranjeevi, the megastar of Telugu films, may have failed to air the feelings of the Seemandhra people, but his act impressed the Congress high command so much that he was named as the campaign manager of the party in residuary Andhra Pradesh. But it is not an easy task for Chiranjeevi who campaigned against Congress in 2009 to now convince voters to vote for Congress.
it is easier said than done. Also, the dominant castes in the region are Kamma and Reddy. "Moreover, Chiranjeevi is not NTR," said Lagadapati Rajagopal, the expelled Congress MP who is now popular for his pepper spray act hinting at he might not be able to woo voters just through his speeches.
In last general elections, the the 58-year-old actor was defeated in his home town of Palacollu by 5,000 votes but won from Tirupati by a margin of 10,800 votes. But he hardly attended the assembly sessions (34 days to be precise) and by April 12, 2012 was elected to Rajya Sabha. Later, he had to wait for almost October to be inducted into Manmohan Singh cabinet.
Chiranjeevi had a stellar career in Telugu film industry where he had successfully broke the domination of the NTR and ANR families which controlled distribution, exhibition, and finance sector.
Since he began his film career in 1978, Chiranjeevi acted in 149 films is waiting to do his 150th film, after a five-year stint in politics. During his hey days in the film industry, he was often described as 'Bigger than Bachan'. A magazine had hailed him as 'The new money machine' when he clocked a whopping Rs1.25 crore in 1992 for Aapathbandhavudu.
Congress is heavily banking on Chiranjeevi's popularity. The party which is facing a tough challenge in Seemandrha owing to the bifurcation of the state, believes that Chiranjeevi's image as a Kapu leader and charisma as an actor would minimize the damage to Congress.
However, Chiranjeevi sees a 'fractured' role for himself in Seemandhra. "My first job is to convince the people that state bifurcation was inevitable and that Congress would do everything to ensure that there is hardships and suffering of the people of Seemandhra are solved," he said .
Chiranjeevi, one of the few Seemandhra Congress leaders to meet party president Sonia Gandhi post-Telangana, said, "Sonia Gandhi offered me to ask anything for Seemandhra but not to stall Telangana as the party is committed on statehood issue".
Whenever the 150th film happens, one wonders whether Chiranjeevi will ever essay the role of a chief minister in real life.
On domestic front, his son Ramcharan too had a bad year with one flop (Yevadu) and one hit (Rachcha) and two criminal cases registered against him. However, the industry believes Chiru has nothing to loose in politics. He can once again rebuild his career and become another Bachchan, says one of his favorite film producers and brother-in-law, Allu Aravind.