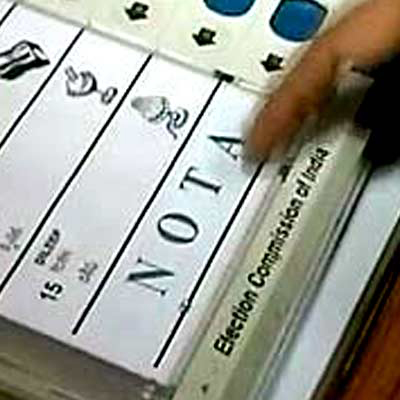 India starts voting today for the Lok Sabha elections and an added number of 2.3 crore first-time voters are expected to enter the fray. Much has been spoken about manifestos, ideologies and polling dates and there is a politically debated environment in the country.
A total of 814 million people are eligible to vote in the parliamentary elections to be held in nine phases between April 7 to May 12.
There are 543 constituencies and 9.3 lakh polling stations set up across the country. But, what holds the youth attention this year is NOTA option or None of the above option wherein people can refuse to vote for any candidate.
NOTA was passed in a landmark judgment when Supreme Court of India took into account the need for NOTA option while voting on 27 September 2009. The idea was to increase participation so people would enter the election process and make their voices heard.
Voting takes place through Electronic Voting Machines (EVM) and it will include the NOTA option to allow public to reject candidates on the basis of their quality.
Many hoped that the provision, which was introduced after Supreme Court ruling, would lead to the parties fielding to clean candidates to the polls. But, analysts feel that the quality of candidates has not changed much in these elections.
The purpose of NOTA was to allow the voters to exercise their right to vote without being compelled to select a particular candidate without any alternate options being available.
Under this provision, even if the NOTA wins more votes than the candidates running for office, the contestant with the greatest number of votes will still be counted as the winner unless fresh elections are sought by the parties.
In this way, this provision is a disappointment to many good government campaigners as it will not have a substantial impact.
Also read: Lok Sabha elections 2014: A quick glance through polling schedule
Below are some facts about NOTA:
* Under the Supreme court's judgement dated 27 September 2013, the election commission is to provide an alternate option of 'NOTA' in the elections.
* The voters who do not want to vote for any candidates can exercise this power in secrecy.
* In case if NOTA count is higher than votes received by any candidate, this results in fresh elections.
* Not many are aware about all the provisions of NOTA. There will be many questions being raised on the functioning of NOTA in various cases.
dna spoke to some citizens about the NOTA option and here's what they had to say:
Mayank Jain: Media professional from Delhi
The political process of choosing a representative which is chosen by the whims and fancies of a political party and his own sycophancy is a sham to me. Voting for the right candidate is important and if I find none, I'll definitely go for NOTA.
NOTA is my right to reject the wrong candidates and I would never let the wrong man take my vote no matter how bad my options are. Though the vote is blank but if enough people vote NOTA, it'll definitely spend the right message to parties which have long forgotten the ideals of a democracy.
Ami Mehta: HR professional from Mumbai
It is a very useful inclusion into the ballot system ! We do not always agree with the candidates sardine for elections. This gives us a chance to cast our vote even when we do not wish to choose the candidates from the options given to us. We are the worlds largest democracy and the electoral committee of India has take the right step by giving us this option. I will go for NOTA option.
Abeer Khatri: Student from Mumbai
Being neutral wont get any change in the country and we should participate in the election process. We should dare to change the system or otherwise don't complain!
I don't think NOTA will get any better results for this country as it is as good as not voting. I will not use the NOTA option.
Siddhaarth Aalambayan: Filmmaker from Mumbai
I've always wanted to have a dislike button on the social network but nota doesn't let me reject. Hence it does very little good to me. I will be using it but am not sure if It'll be doing any good to my conscience.​
Sharvari Joshi: Student from Mumbai
NOTA is a good option and I will use it to cast my vote. My parents have been debating about various candidates and their work for the ward. Based on that, I will use the reject option after checking out candidate profile. This may bring some new faces into the electoral system.
Murtaza Merchant: Media professional from Mumbai
I will not use NOTA as it makes no sense to me. Its not as if our constituency will remain void of a candidate if we use the option to reject.
Chiranjeevi Ahire: Student from Mumbai
NOTA will help in increasing the voter turnout and hence make elections a more participatory exercise.It will not make a difference to the electoral outcome but EC should implement the next step. If the NOTA option is the choice of the majority of the voters in a particular constituency, then re-election should be held, with the condition that none of the candidates from the previous round can become candidates in the next round.
Also read: Sex workers to exercise NOTA option in protest against apathy