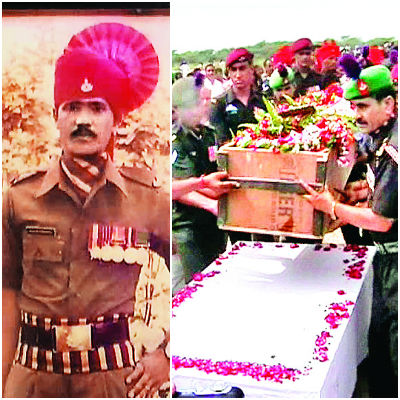 Around Independence Day recently, countless people on social networking sites apparently swept by a wave of patriotism posted a picture of Shahid Bhagat Singh's ramshackle house in Khatkar Kallan (Punjab) along side that of a top politician in Delhi. The idea was to drive home the point that while many who laid down their lives for the country's freedom remain unsung, those who aggrandise themselves in the very same nation live amid fame and luxury.
The story laced with this prickly truth was played out once again – for the umpteenth time – before a nation teeming with thankless patriots using the Tricolour as their profile picture on WhatsApp and Facebook in a remote village in Mainpuri district of Uttar Pradesh on Thursday morning.
The body of Indian Army Havaldar Gaya Prasad, recovered from Siachen Glacier in Jammu and Kashmir, 18 years after he was reported missing from the world's highest battlefield, was cremated in his paternal village Kundariya in Kishni area of this west UP district. Army Chief Gen Dalbir Singh Suhag had on Wednesday paid homage to the 'well-preserved' body which was buried in ice at the Glacier, where temperatures drop to minus 60.
Though the 15 Rajput Regiment carried out the sombre ceremony with military honours, no senior district official cared to visit the long-grieving family. Neither the District Magistrate (DM) nor the district police chief nor any state minister had any time to spare for the unsung martyr. An ADM completed the formality on behalf of the district administration.
'Netas', being the vultures they are, descended on the site to reap electoral returns as the Mainpuri Lok Sabha seat, recently vacated by Samajwadi Party (SP) chief Mulayam Singh Yadav, goes to polls on September 20. So, Yadav's nephew Tej Pratap Yadav, the SP candidate, was there with his followers. So was another Yadav nephew Dharmendra, already an MP from Budaun (west UP) assuring the family that he would take up the matter of getting maximum financial aid with UP CM Akhilesh Yadav.
The martyr's wife Rama Devi, who had been waiting for "good news" about her husband for 18 long years, didn't know whether to laugh or cry. "Initially, when they told me that he (Gaya Prasad) had been found, I felt happy and relieved that my wait had finally come to an end. But, then, he has come back in a coffin. I don't know what to say," she said between sobs, beyong herself with grief. Her son Satish, who was 17 when his father was reported missing, consoled her, trying hard to fight back his own tears.
Hordes of villagers had started gathering at the martyr's house ever since his body was brought to this village around midnight on Wednesday. By morning, thousands had gathered at the cremation site, and the 15 Rajput Regiment jawans had a tough time controlling the crowds.
"There is no honour for the martyr," lamented Gaya's friend and 15 Rajput colleague Subedar Singh. "What does the family get from a military ceremony and laying of wreaths. They should be well compensated and Gaya's martyrdom should be adequately honoured. No such announcement has been made as yet," he told reporters. The villagers, too, complained about what they considered "dishonour" to a martyr.
Prasad, a native of Mainpuri district in Uttar Pradesh, had gone missing during "Operation Meghdoot" on Siachen Glacier in 1996 and his body was recovered only last week. The Havaldar was declared 'Missing Dead' 18 years ago while serving at Khanda Post in Siachen (Northern Glacier).
As per Army records, he was collecting stores dropped by helicopter at Khanda Dropping Zone, when he fell into a crevasse on December 9, 1996. "All attempts to rescue him could not succeed despite sustained efforts over three days," an Army release said. The body was recovered by a unit deployed in the area after it had partially surfaced and was identified as that of Prasad. He is survived by his father, Subedar (Rtd) Gajadhar Singh, wife, a son and two daughters.