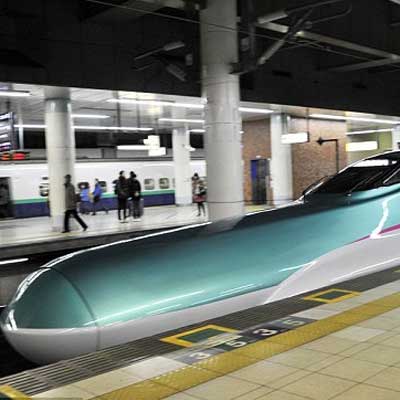 While presenting his railway budget, Railway minister Sadananda Gowda spoke about bullet trains and said that the trains would run between Narendra Modi's state Gujarat to three major cities of Mumbai, Chennai, Kolkata and Delhi.
"Indian Railways is on course to fulfill its long cherished dream. I propose a Bullet train on the Ahmedabad- Mumbai sector," Mr Gowda said while presenting the new government's first railway budget today amidst opposition's din.
#RailBudget: Mumbai to get 864 new local trains
Read complete coverage of Budget here: Budget 2014
*PM Narendra Modi had announced a diamond quadrilateral of bullet trains to connect the four major cities of Mumbai, Delhi, Kolkata and Chennai in his manifesto and 'Smart cities' project was also a part of the plan.
*The high-speed trains are expected to run at a maximum speed of 320 km per hour.
*Japan International Consortium will complete the project feasibility report by 2015. Post this, other infrastructral details will be worked out including land acquisiiton.
*According to reports, trains will originate at Bandra-Kurla Complex. This will benefit all the diamond merchants from diamond bourse who plan to shift their base to Surat to cut down expenses.
*The corridor will not have more than five stations, against the initial plan for 11 accoding to reports.
*The railways iwants to implement this project on a public-private partnership (PPP) basis with Maharashtra and Gujarat as stakeholders.
*The project was planned as the Pune-Mumbai-Ahmedabad corridor. But Pune-Gujarat leg has been canned due to financial constrainst and viability.
*Maharashtra state government believes that the proposed Mumbai-Ahmedabad route will primarily benefit Gujarat more as the route covers three of its cities—Surat, Vadodara and Ahmedabad.
*Prior to this, a pre-feasibility study for the Pune-Mumbai-Ahmedabad route was conducted by French consultancy firm Systra.
*The cost of the study will be shared equally by India and Japan.
Also read: From food courts to Wi-Fi at railway stations: 10 key commuter-friendly ideas in Sadananda Gowda's Railway Budget
How Sadananda Gowda came across as extremely aggressive and modern in his maiden Railway Budget