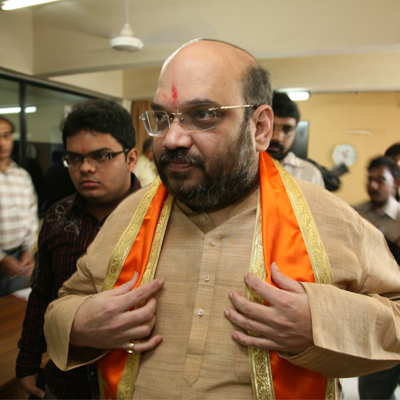 Meddled with controversies yet rising above ranks, BJP's Amit Shah has been a controversial figure ever since his involvement with Ishrat Jehan case and snooping scandal surfaced. Though rumours had been rife that he would lead the saffron party as the President, news reports confirm that Amit Shah will hold the coveted position in the party.
A press conference held by Rajnath Singh confirmed Amit Shah as the next BJP President.
This comes close on heels of Senior RSS members joining BJP in order to increase sangh clout within the party. Though Shah is a controversial figure, his recent performance of delivering Uttar Pradesh had cemented BJP's dominance in the country in Lok Sabha elections.
Shah was the party strategist instrumental in scripting BJP's massive victory in the north, especially in the politically key state of Uttar Pradesh, where it won 71 of the total 80 seats.
According to news reports, Shah will take over from Rajnath Singh, who is now the Union Home Minister and has announced he will relinquish his BJP role in keeping with the party's "one-man, one-post" formula.
With Jharkhand, Maharashtra and Haryana scheduled to go to polls later this year, Shah if elevated to the top post will have a herculean task to bring the BJP into power in all the three states. While Maharashtra and Haryana are being ruled by the Congress, Jharkhand is being governed by Jharkhand Mukti Morcha under the leadership of Hemant Soren.
Recently, the Maharashtra BJP unit had advocated for Shah to handle the election campaign in the state. Known to be a sharp political strategist, the former Gujarat home minister remains Modi's most trusted political aide and masterstrategist. Shah had served as the home minister of Gujarat when Modi was the chief minister. Shah, who had a plastics and printing business, met Modi in the late 1980s. It was earlier said that Shah, who is currently BJP's national general secretary, may contest from Vadodara Lok Sabha seat that was vacated by Prime Minister Narendra Modi who retained Varanasi constituency.
Below are some interesting facts that you ought to know about him:
*He is one of the recent BJP members who rode the Modi wave and resurrected his career. He is known to be a close confidante of Narendra Modi and has stuck to him for decades.
*He had taken charge of the party's fortunes in Uttar Pradesh and had also declared that India's most populous state would lead the NDA's return to power in general elections. This proved right and he was able to pave way for BJP in Uttar Pradesh despite Yadav and Mayawati clout running high in the state.
*As a prominent politician, he receives Z plus security Cover from Government.
*Amit Shah was born in Mumbai, in a well-to-do family. His father Anilchandra Shah, a businessman from Mansa, owned a successful PVC pipe business.
*Shah was involved with the Rashtriya Swayamsevak Sangh (RSS) since childhood, participating in the neighbourhood shakhas as a boy. He formally became a RSS swyamsevak during his college days in Ahmedabad. He first met Narendra Modi in 1982, in the Ahmedabad RSS circles. At that time, Modi was a minor RSS pracharak, working as in-charge of youth activities in city.
*Amit Shah's fellow ministers were quoted as saying that the Minister of State for Home was remote and autocratic, some said arrogant, and had not bothered to keep the best of personal relations with his colleagues.

*When the CBI named him in its chargesheet in the murder of small-time gangster Shohrabuddin Sheikh, Shah went virtually underground in the months before his arrest. He stopped using his official mobile phone and his official car.
*He was arrested on July 25, 2010. He left jail three months later on bail.
*Shah was charged with murder, extortion, kidnapping besides five other sections of Indian penal Code in connection with the killing of Sheikh in an allegedly fake encounter. Also, later eliminating his wife Kausar Bi and associate Tulsiram Prajapati too.
*He holds a Bachelor's degree in Bio-Chemistry and was an RSS volunteer and a leader of the BJP's youth wing, the Akhil Bharatiya Vidyarthi parishad (ABVP).
*Amit Shah has been the president of the Gujarat state chess association.
*Amit Shah, a close associate of Gujarat Chief Minister Narendra Modi, is known to be a keen strategist and organiser and has the skills needed to pull the BJP out of the morass that it is in in UP - in recent elections it has always come in at number 4 in four-cornered contests. But rivals are not likely to let the BJP forget that Mr Shah carries the taint of a criminal record.
*Till the Sohrabuddin fake encounter case came back to haunt him, Amit Shah's control over politics in Modi's domain was strong. Before the CBI net started closing in on Shah in 2010, he was even considered an option for Chief Minister of Gujarat when Narendra Modi moved to national politics. But after he was banned from entering Gujarat, Anandiben Patel was elected as the Chief Minister of the state.

*Shah was charged, arrested and jailed in the Sohrabuddin case and was granted bail by the Gujarat High Court. A rider followed that he must leave Gujarat and stay away till the Supreme Court decided on a CBI plea that his bail be cancelled.
*In 2012, the top court confirmed bail for Shah and allowed him to return to Gujarat. He contested the assembly elections in December and surprised no one by posting an easy victory.
*In December 2002, when Narendra Modi first crushed the Congress to win a record 126 seats in the 182-member Gujarat Assembly, Amit Shah won by the highest margin of votes, over 1.58 lakh and even higher than Modi himself. His constituency, Sarkhej elected Amit Shah again in 2007; he bettered the margin of victory winning by 2.35 lakh votes. In 2012, there was no Sarkhej thanks to delimitation.

*When Amit Shah returned to Gujarat, there was a major power shift as anandiben Patel had rise. Even she was close aide of Narendra Modi. But Amit Shah proved his mettle after he was appointed BJP general secretary on party president Rajnath Singh's new-look team and was given charge of crucial UP.
*His promotion this year did not go down well with many in the party who see him as a big liability because of the criminal charges he faces in the Sohrabbudin and Tulsiram Prajapati cases, from the time when he was the powerful minister of state for home in Gujarat.
Must reads on Amit Shah:
The importance of being Amit Shah
Amit Shah's elevation in the BJP's top leadership is not very surprising. It follows the same pattern as his rise from an RSS pracharak to becoming second in command in the Modi dispensation in Gujarat. Both Shah and his mentor ran Gujarat with a firm hand since 2003, when he was inducted as the youngest minister in his cabinet with the distinction of holding ten portfolios: home, civil defence, prison, excise, law and justice, legislative and parliamentary affairs (independent charge), transport, police housing, home guards, prohibition, Gram Raksha Dal, and border security. Read more
Amit Shah conquers Uttar Pradesh, Narendra Modi upsurge breaches caste barriers
Atal Bihari Vajpayee had said the road to Delhi was via Lucknow. Eight years later, Narendra Modi has stormed into Delhi via Varanasi. Sweeping Uttar Pradesh with 71 of the 80 seats, Modi has breached the fanaticism of caste politics resurrecting the BJP in the state with a record victory which went far beyond expectations of even Amit Shah, his close aide and architect of the UP revival plan. As the Modi deluge, chanting development and good governance swept across the state, it wiped out the BSP completely, reduced Congress to just 2 seats and left the ruling SP with a tally of five in mostly four-cornered contests across the state. Read more
Snooping is never alright, whether on or by BJP
Commentators have also mentioned that the BJP would not gain much by protesting against the snooping and should rather build up its own intelligence and technical systems in a way that spying become difficult for other countries. Though there is merit in the point, however, one cannot forget that it is an issue of foreign diplomacy and international relations and by registering its complaint with the envoy, the government will be seen as taking a stand in something that matters to them. However, what is ironical is BJP's own history of what had been dubbed as 'Snoopgate' a few months ago. Though many saw it as just a political conspiracy by the Congress before the elections, BJP was accused of snooping over a girl. The claim was supported by investigative websites like Gulail and Cobrapost which handed over many telephonic conversations to the CBI. Read more
Good governance will bring Muslims closer to BJP: Amit Shah
BJP's Uttar Pradesh in-charge Amit Shah on Tuesday expressed the hope that if the NDA comes to power, its good governance will bring BJP closer to Muslims, who, he said, have maintained a distance from the party. "Since BJP came into being, this gap between the Muslim community and the party has been played up. And because of this, there is a gap between the Muslim voters and BJP. But we neither divided the voters between Hindus and Muslims nor we intend to do so in future," he told a TV channel. Read more