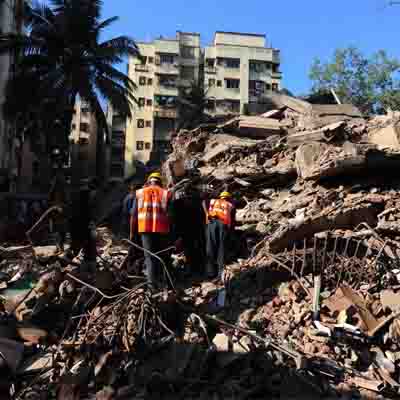 The Gujarat government on Tuesday ordered a magisterial inquiry into the building collapse that took place in Surat on Tuesday afternoon in which three persons, including two children, were killed.
Confirming the development, state Chief Minister Narendra Modi tweeted- "Gujarat government has ordered a magistrate- level inquiry to look into the cause of the building collapse."
Apart from setting up an inquiry, the government also announced a compensation of Rs 2 lakh each to the kin of the three victims.
Around 2 pm, slabs of six floors of 'Kanaiya Palace', a nine-storey residential building on Ghod-daud Road, collapsed, killing three and injuring at least five. The injured were those who were rescued from the debris and sent to hospital by fire brigade officials.
The deceased were identified as four-month-old Darshan Prajapati, eight-year-old Meet Shah and Pooja Agrawal (40).
Officials said Meet and Pooja lived in the building with their respective families, while Darshan had come with his grandmother, who works as a maid in the building.